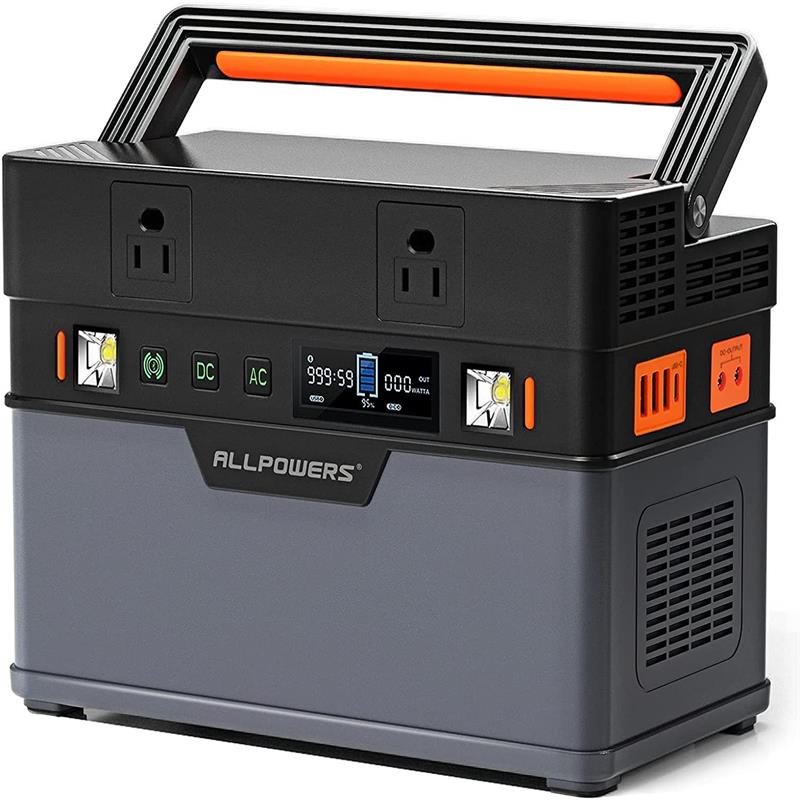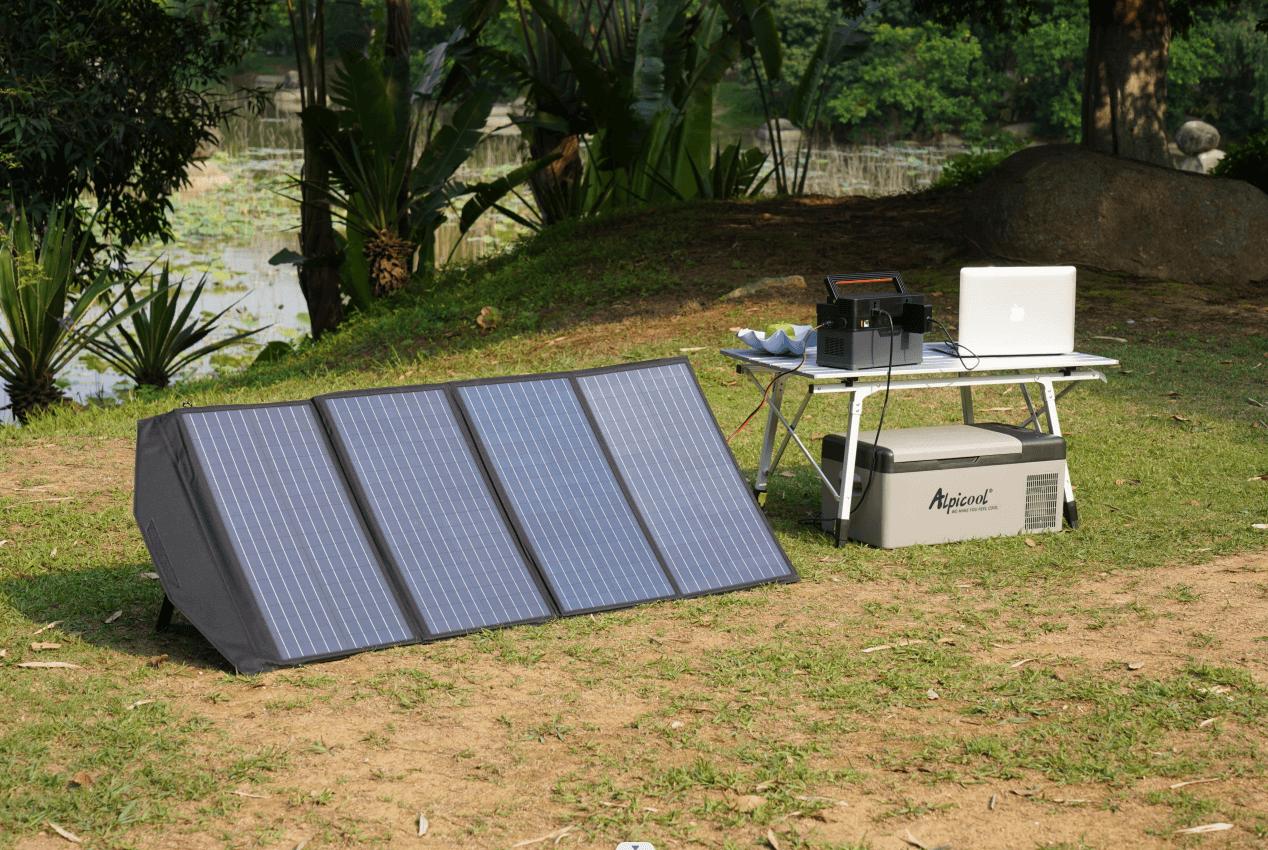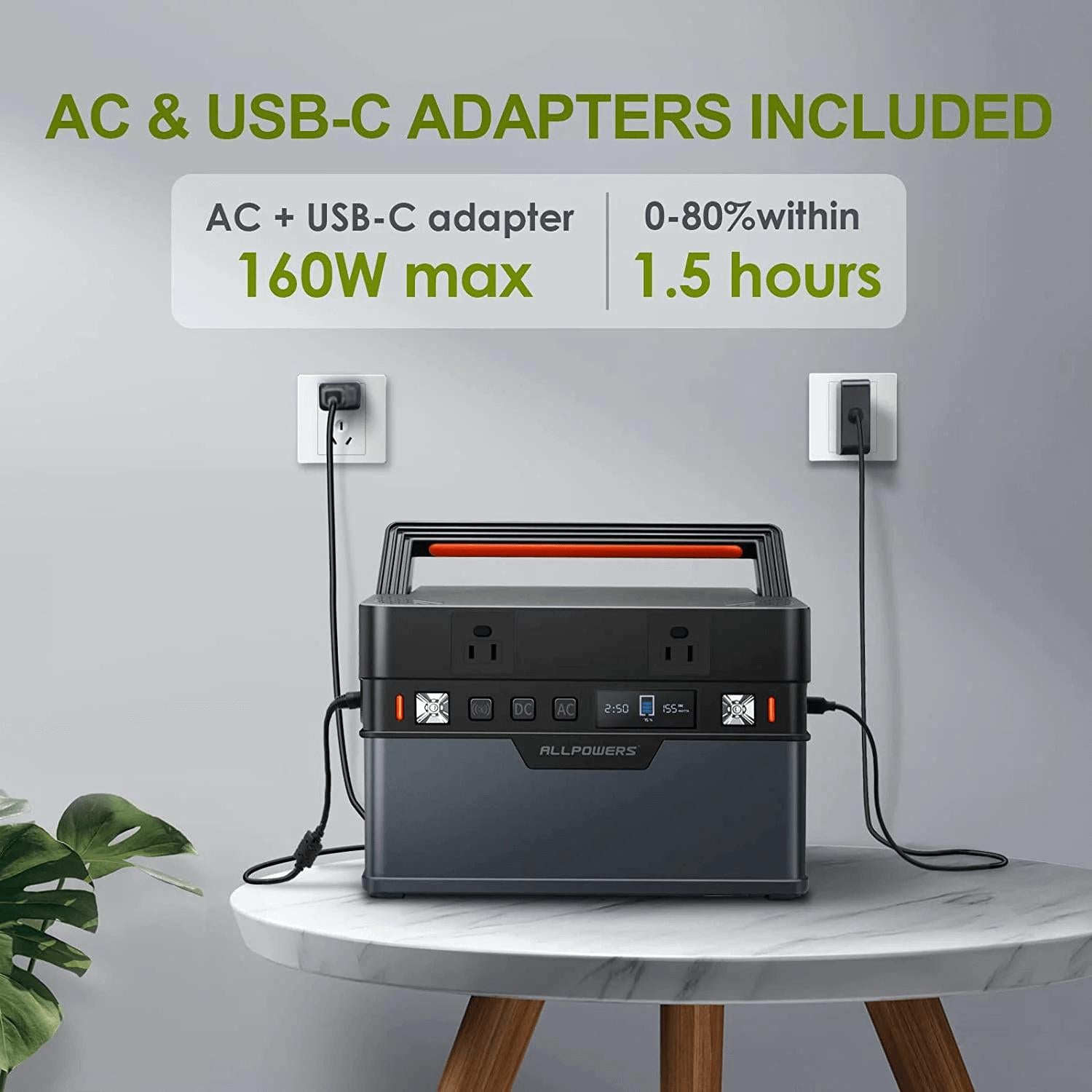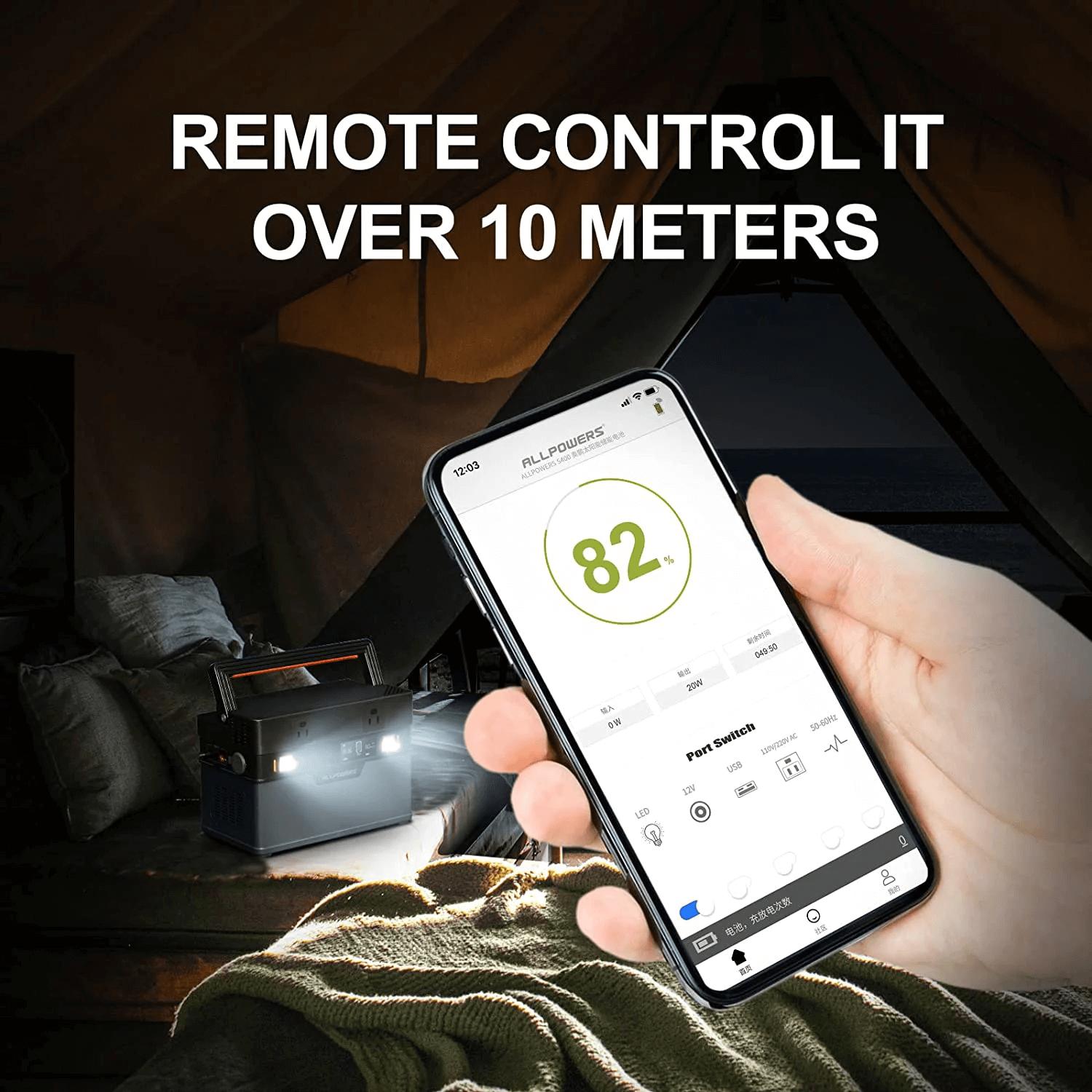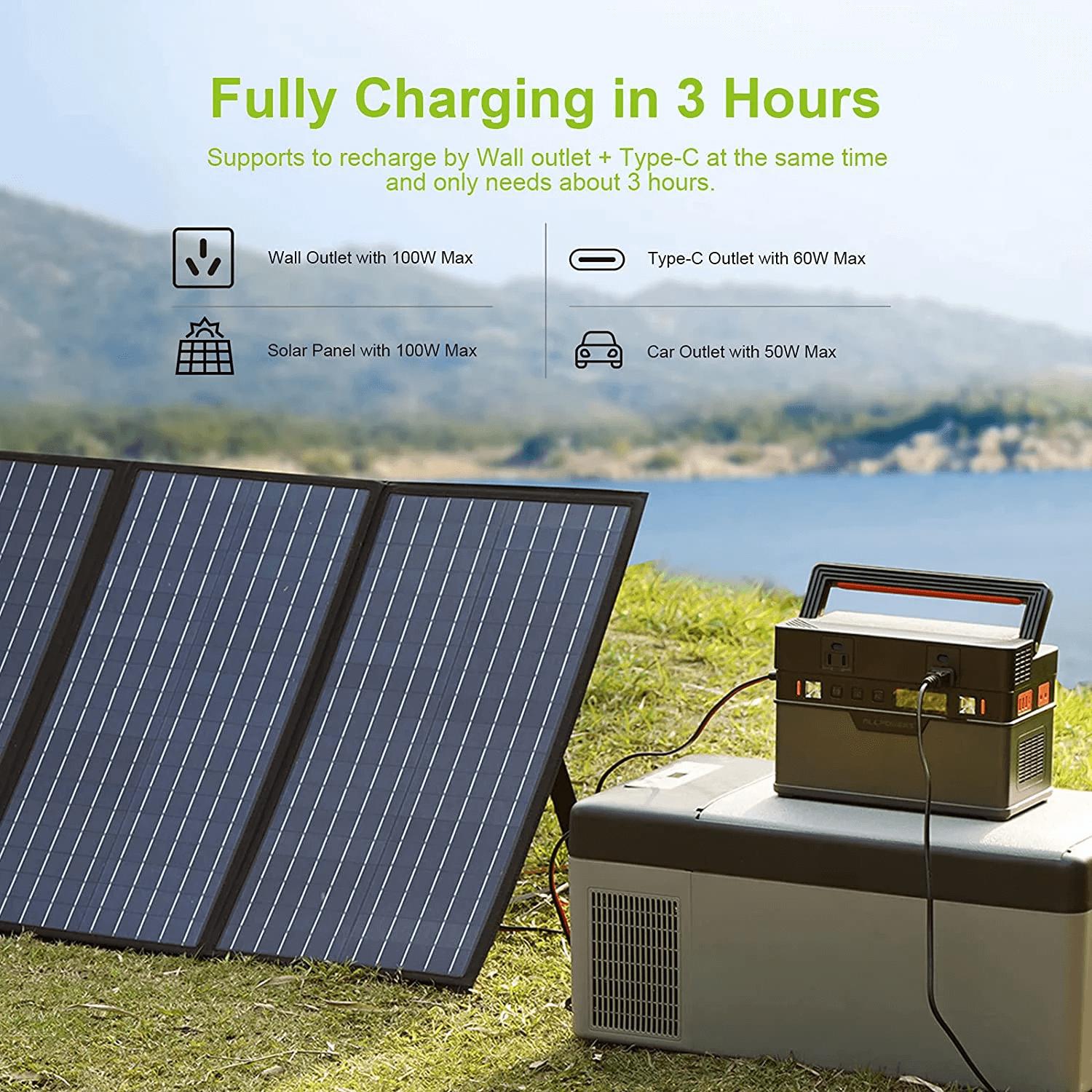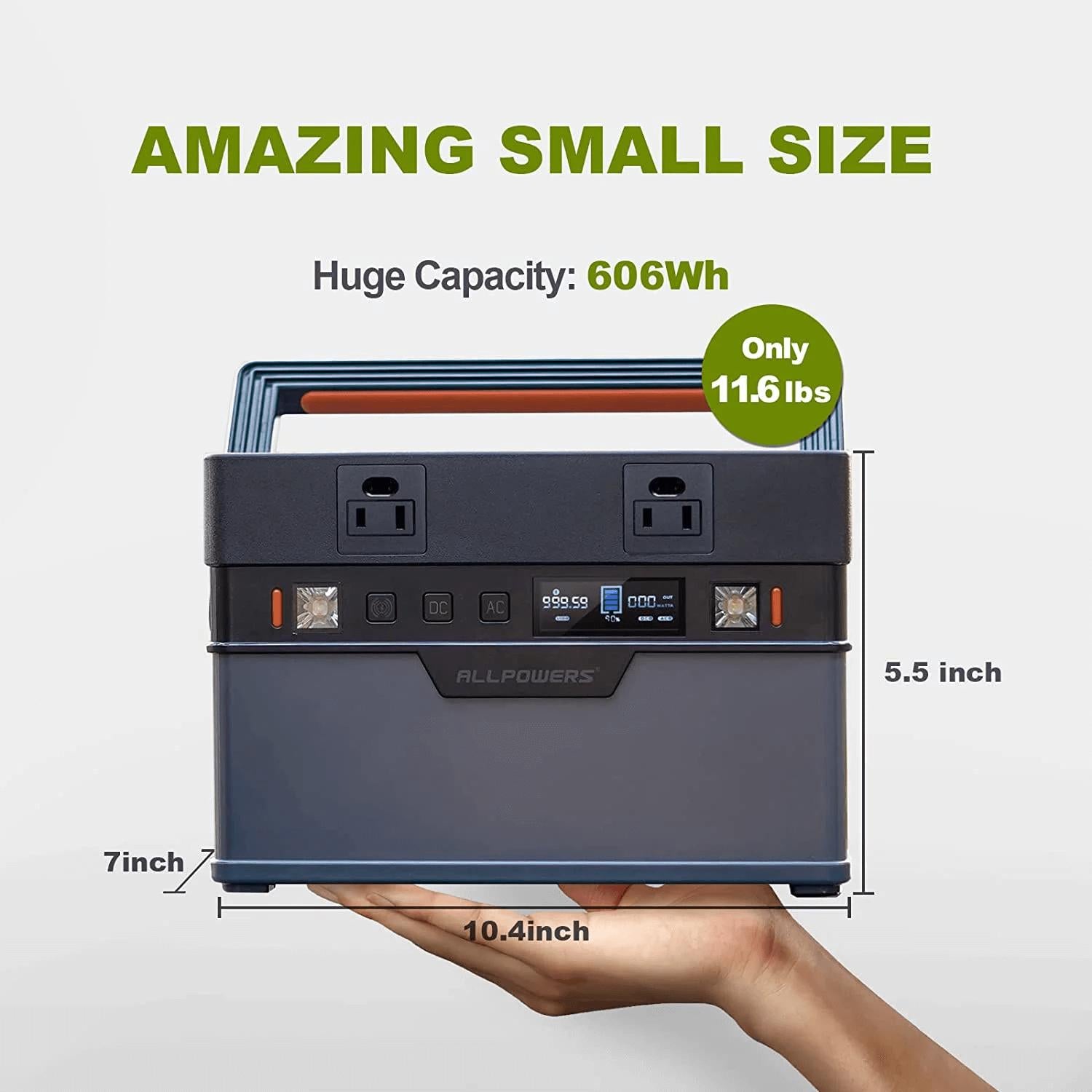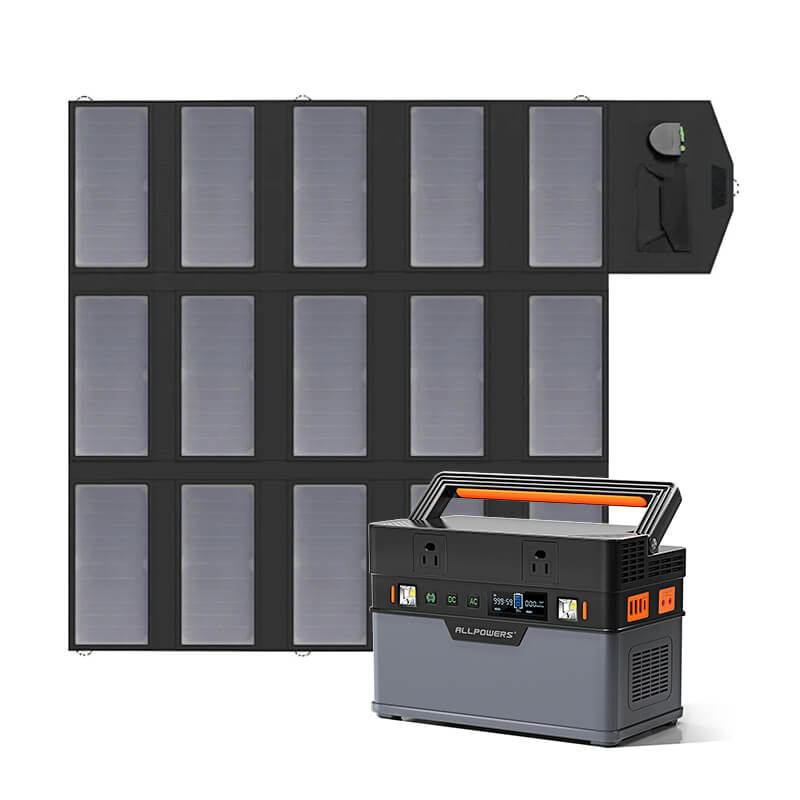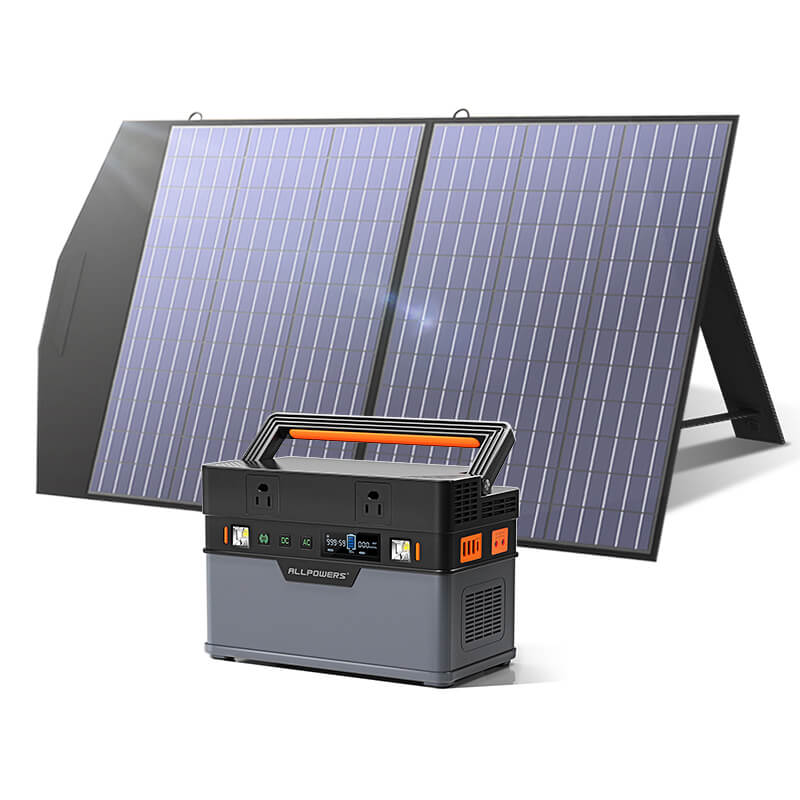 ALLPOWERS S700 Portable Power Station 700W 606Wh
---
Local delivery, 3-5 days delivery
Feature Specification
700W AC Pure Sine Wave Inverter (1400W Surge);
606Wh,164000mAh,Capacity;
1.5 Hours from 0% to 80% with Fast Dual Charging (AC+USB-C Simultaneously);
6 Ways to Recharge(AC/USB-C/AC+USB-C/Solar/Car/Solar+USB-C);
9 Outputs for Charging Multiple Devices at once;
100W-140w MPPT. Solar Input;
Phone Remote Control with ALLPOWERS APP;
Eco-friendly/Gas free/Quiet/Cost-effective;
Download Manual
Small Size & 606Wh Large Capacity
ALLPOWERS S700 is a battery power station packing 606Wh into a light 11.6lbs and small size with a carrying handle design makes the mobile power station for camping really portable. With a 606Wh large capacity higher rated power of 700W, it is ready to power many appliances mini cooler, fan, projector, lamp light, and TV for long time. The built-in lamp can be used as emergency lighting.
Power Up To 9 Devices Simultaneously
S700 Portable power station features 2x Pure Sine Wave AC outputs (110V 700W, 1400W Peak), 3 x USB-A ports, 1x PD 100W USB-C outport, 1 x Regulated car port, 2 x DC ports. Connecting via Bluetooth without internet, ALLPOWERS APP making operation easy stable. Allows you remote control it via your phone whenever and wherever. Vintage backup battery for your outdoor adventures, camping, road-trip, RV and home use.
0-80% Charge Within 1.5 Hours
Fast charging solar generator that hits 80% in under 1.5 hrs (fully in 3 hours) by AC wall outlet and PD 60W USB-C simultaneously. Use it as a solar generator for clean solar charging and get stable 100W input with MPPT optimization. You can also fully recharge it by 12V/24V car outlet or a generator. Keep your portable generator always fully powered whenever you are at home, outdoor camping or on your road trip.
More Than 10 Years Battery Life
With Excellent Battery Management System (BMS), ALLPOWERS S700 extends battery service life for more than 10 years with protection of short-circuit / over-voltage / overload / overheating and ensures 1000+ life cycles.
 ALLPOWERS, Your Best Camping Friend
Suitable for various occasions
Can it charge and discharge at the same time?
What device can ALLPOWERS S700 power?

Please note that the AC output port can only charge/power devices that operate at less than 700-Watt. Once exceeding, the S700 will shut off automatically. Please refer to your device specification before purchase.
How do I know the working hours of my device?

First, you need to know the watt of your load device, such as it is 66W.
Then,
AC output:
working time = 606Wh * 0.85 / working power of the device.
606 Wh * 0.85 / 66w=8.5 hours (rough calculated)

DC output:
working time =606Wh * 0.90 / working power of the device.
606 Wh * 0.9 / 66w=9 hours(rough calculated)
Is it possible to replace the built-in battery?

No, the product could not support change the battery or expanded battery capacity
What kind of solar panels should I choose for S700?

The S700 solar input is 12.7V-24V, solar input watt is 100W
This product is rated 4.7 of 5.0 stars.
It has received 34 reviews.
S700. Good power for emergencies
Powers my intended device for almost 2 days. The display is difficult to read so I use the Bluetooth app.
I'm not sure about this one ..
I'm rewriting my review because the last one disappeared. This is irritating. The s700 is not as good as the r600. I should have just gotten another r600. It came completely drained. It was 00 percent. Then after an hour it went to 0 percent. Then it took over 6 hours to reach 100 percent. There's always a green light flashing inside it the you see through the fan vent. It's never really off. It has fake 3 prong outlets that are upsidedown. The ground prong part is fake. Just a place to fit the prong. It ran my 6 cubic foot freezer for 14 hours. Then at 10 percent I shut it off. It ran my 5 cubic foot freezer for 17.5 before I shut it off at 10 percent. It ran my Kenmore side by side fridge freezer for 2 hours before it started failing. Breaker kept going off and it had 95 percent charge left. The r600 had no problem with that fridge. So I don't know. I'll keep it to run my smaller chest freezers but another r600 would have been better. It has that brick on the charger cord. It's the slowest charging out of the 6 different power stations I own. Customer service is not where you write for an exchange but that's were I reached a dead end. They said contact the seller for exchange. I was. It was on their website. Here I sit.
Update
I didn't give the s700 a 5 star. It's a 3 but somehow it shows I gave a 5. I must have messed up during my review.
ALLPOWERS S700 Portable Power Station 700W 606Wh
The size is suitable, easy to carry, and a car emergency supplementary wire is sent, which is really considerate