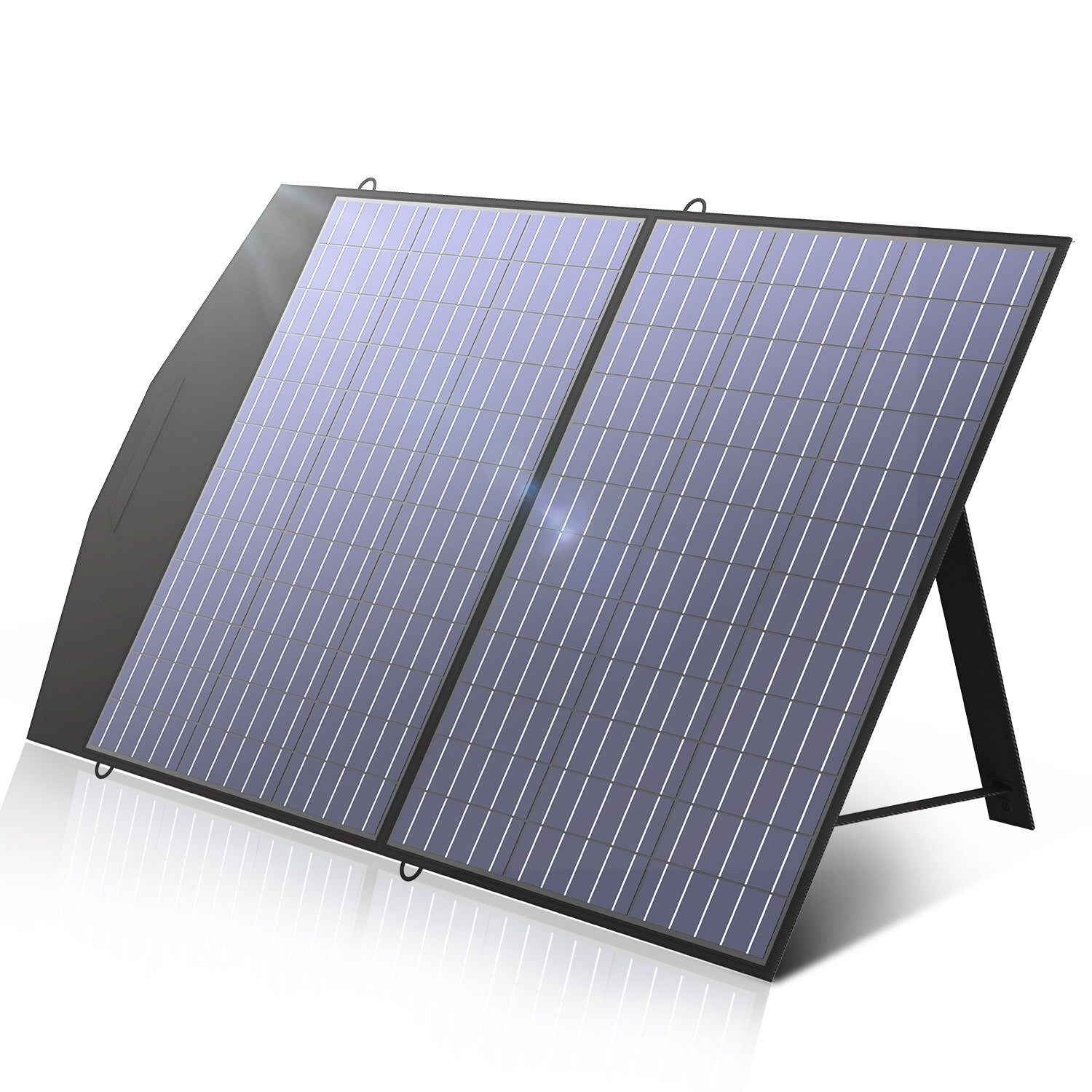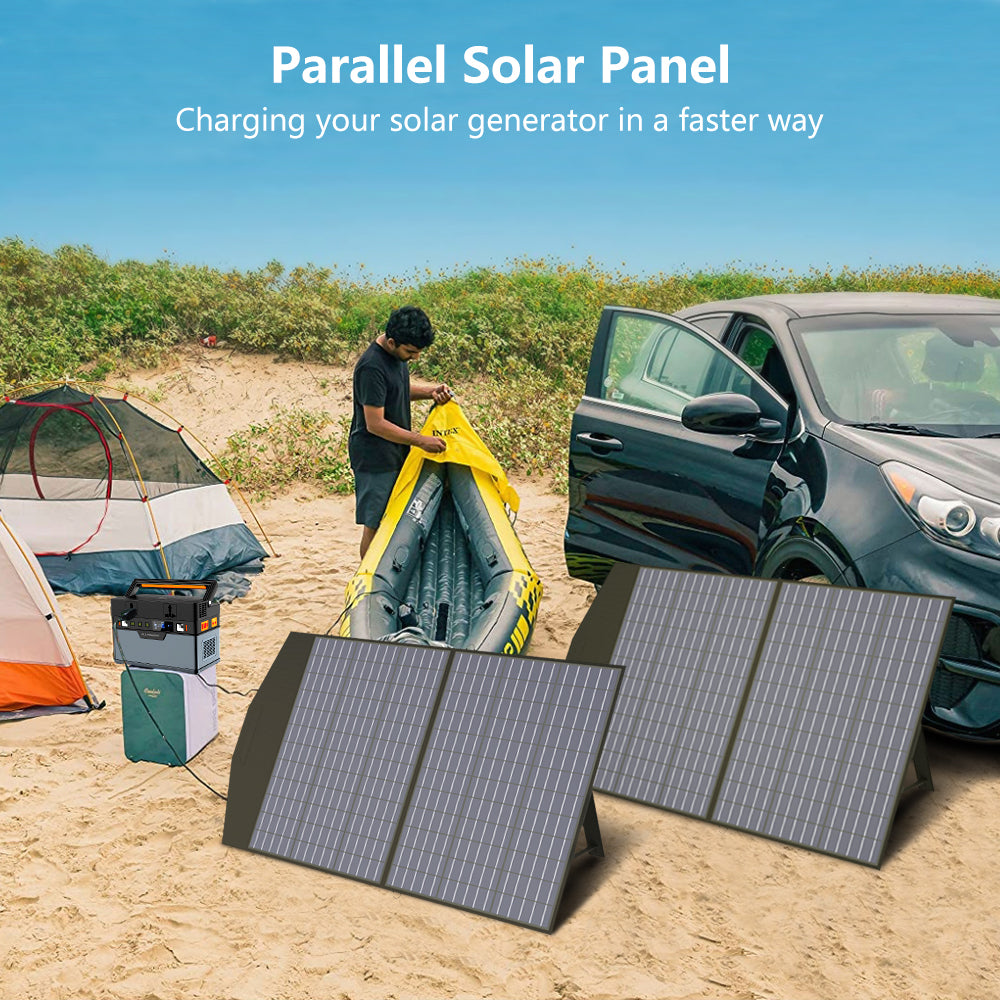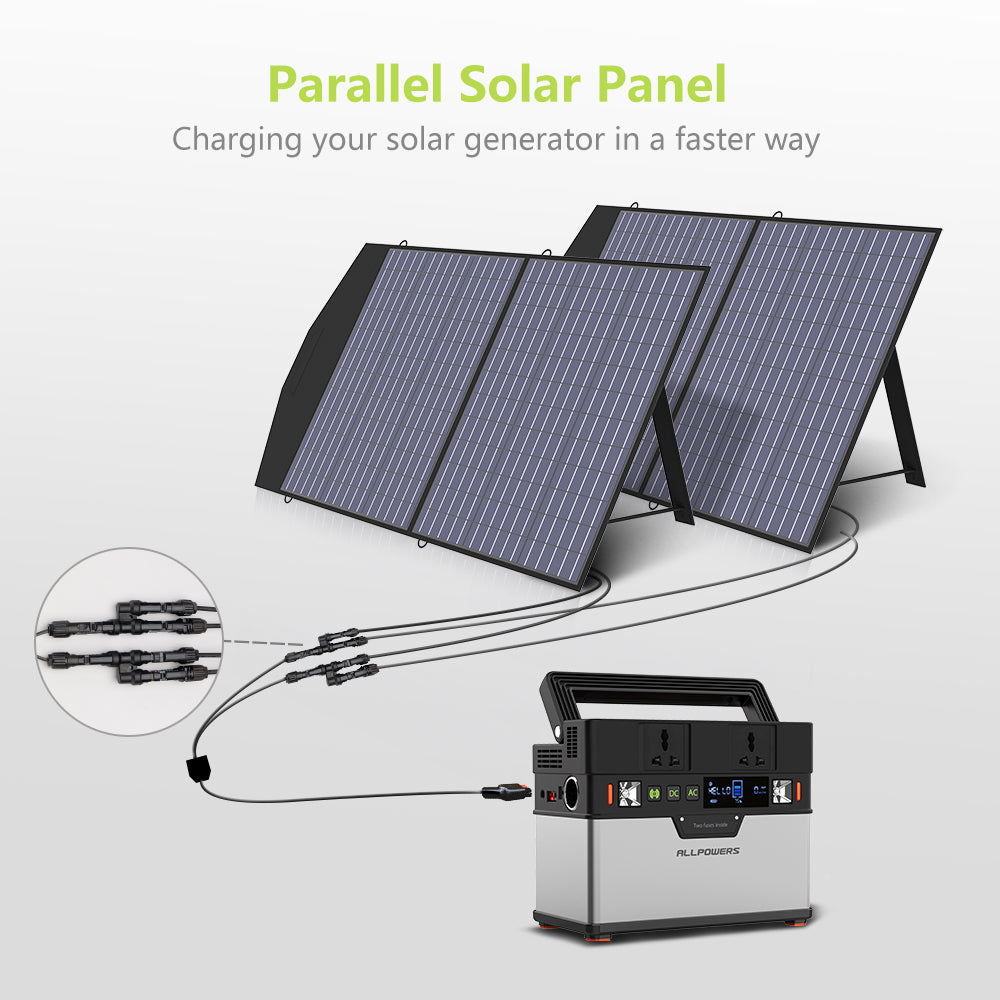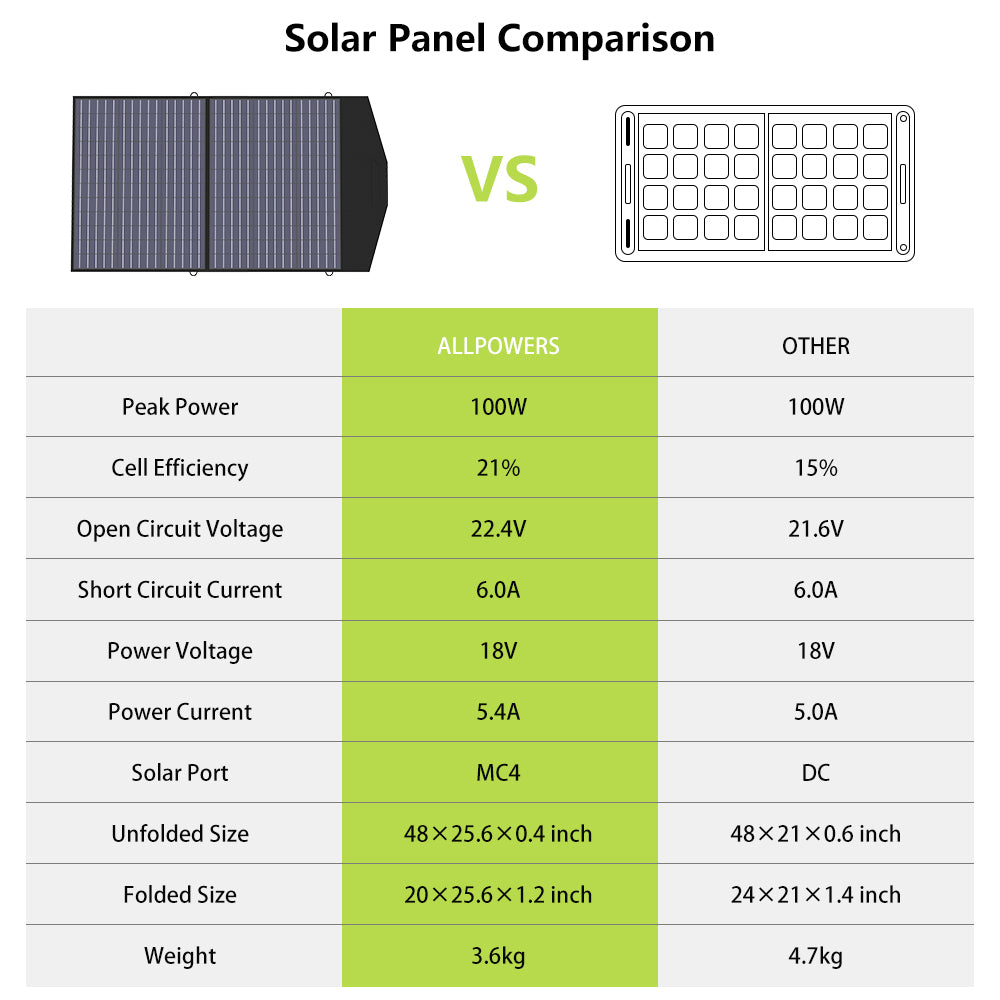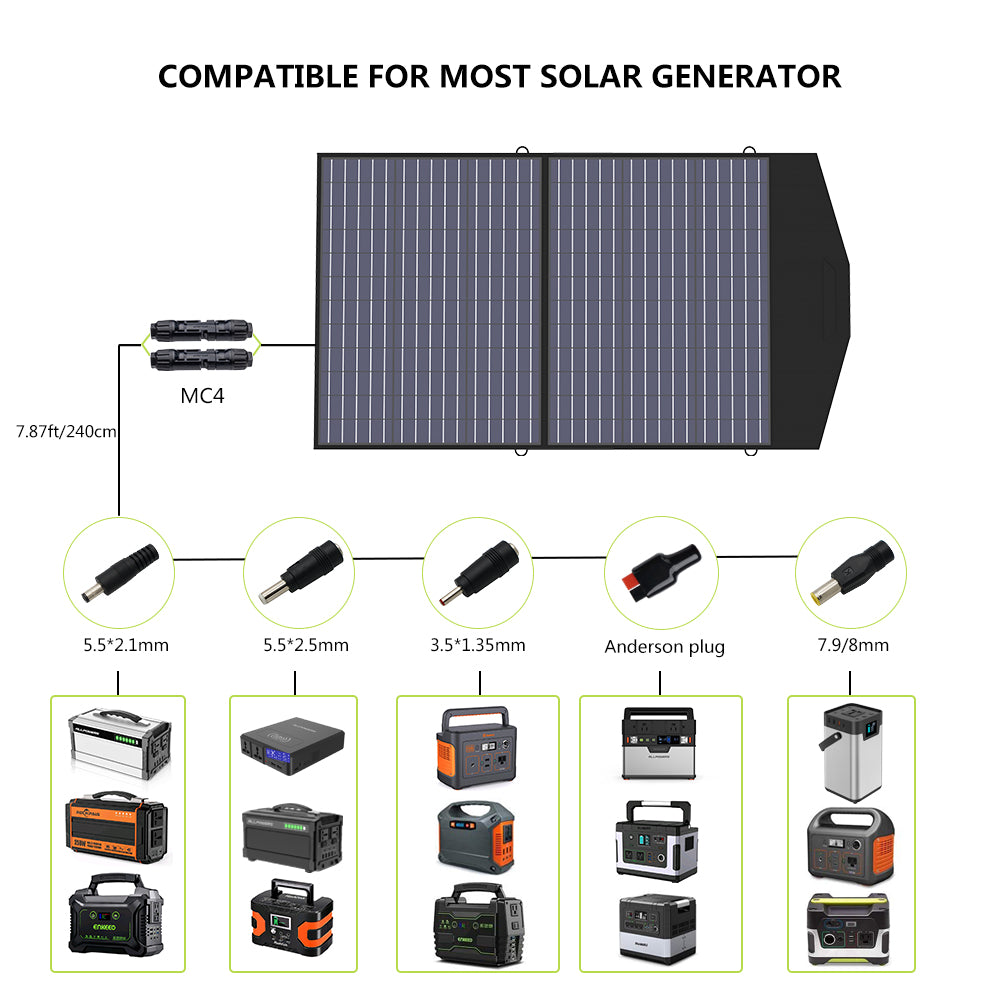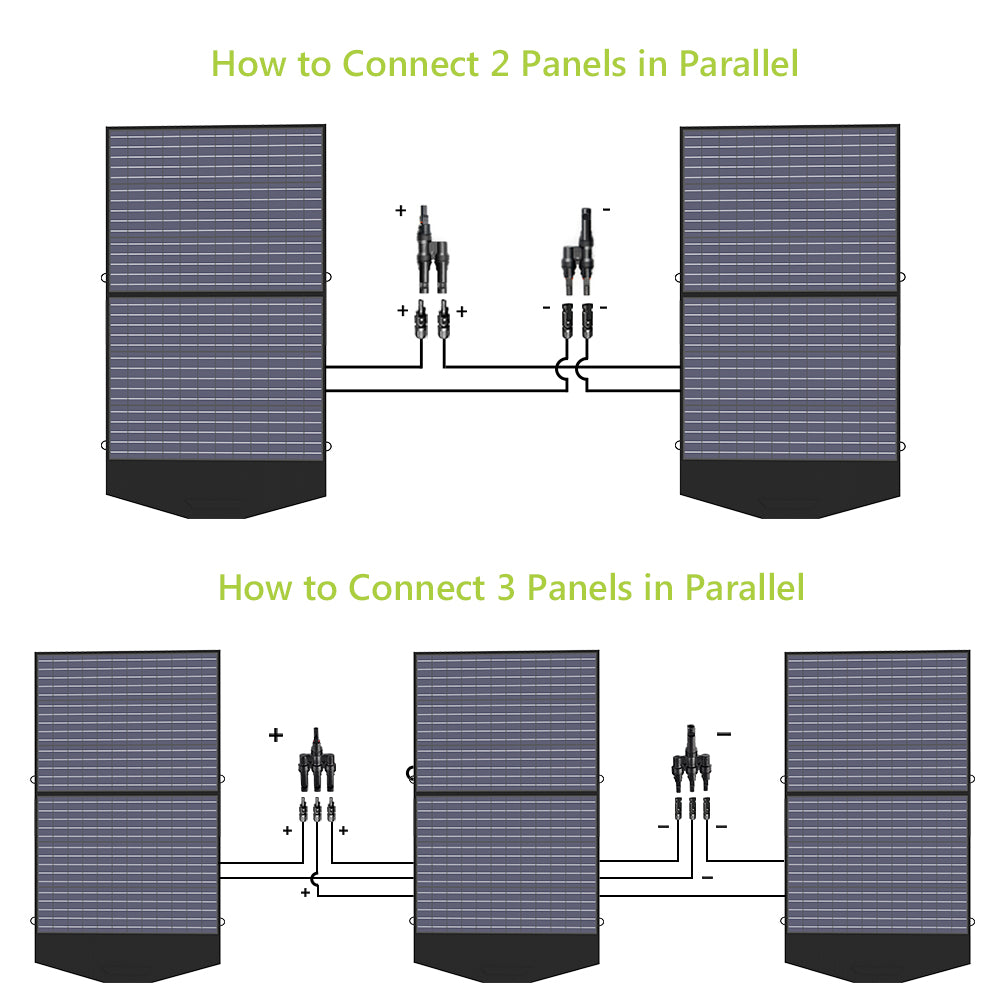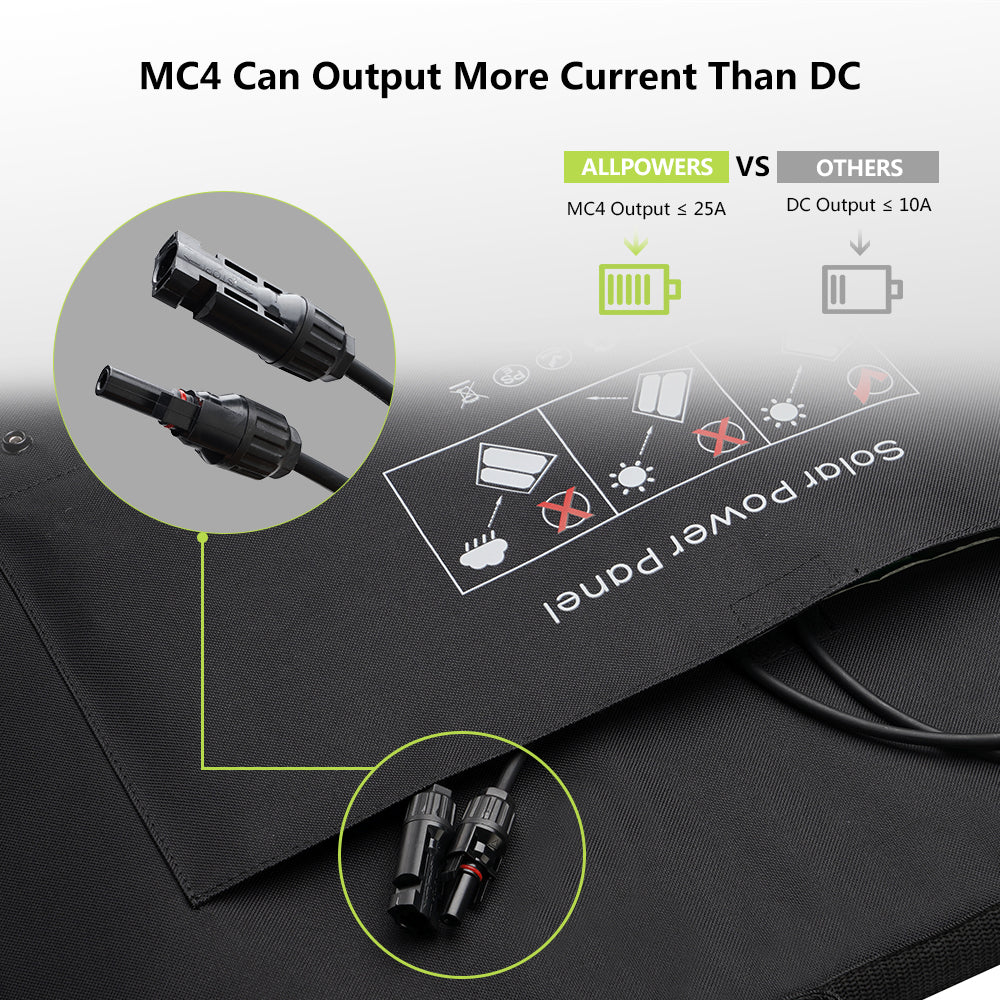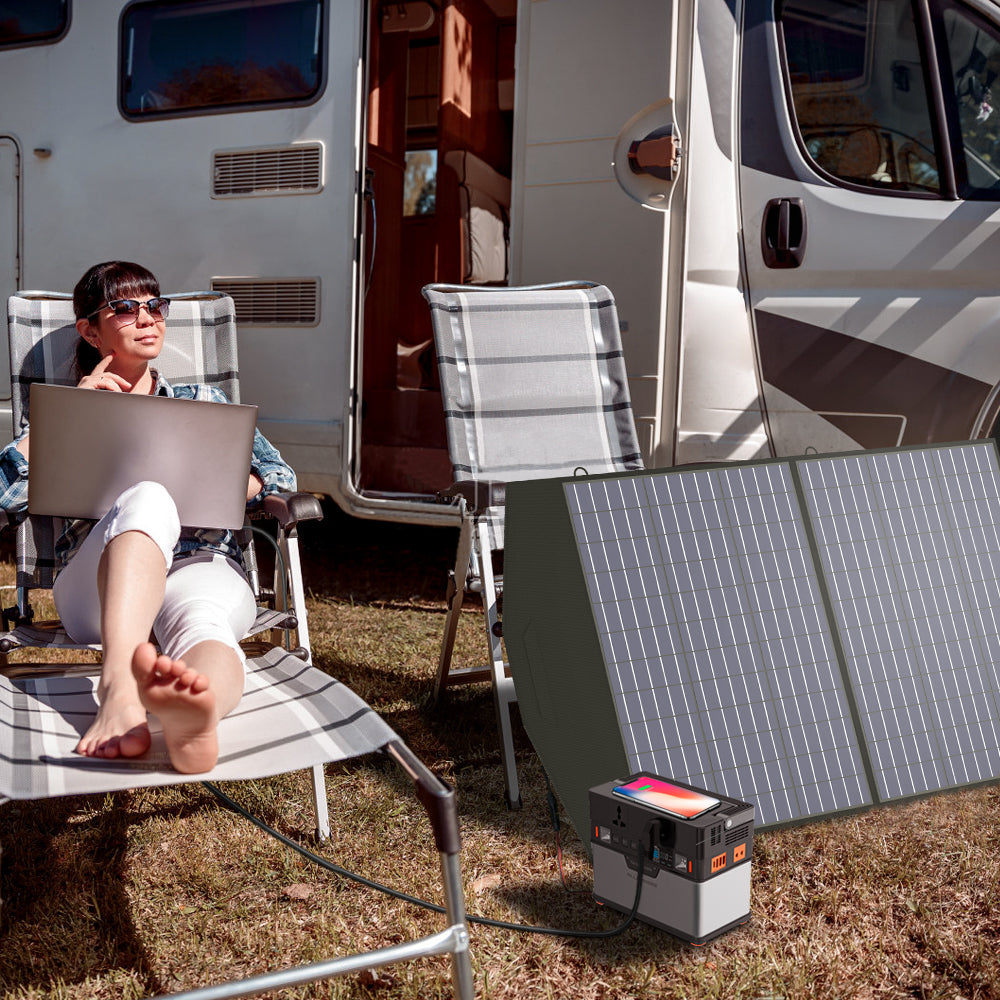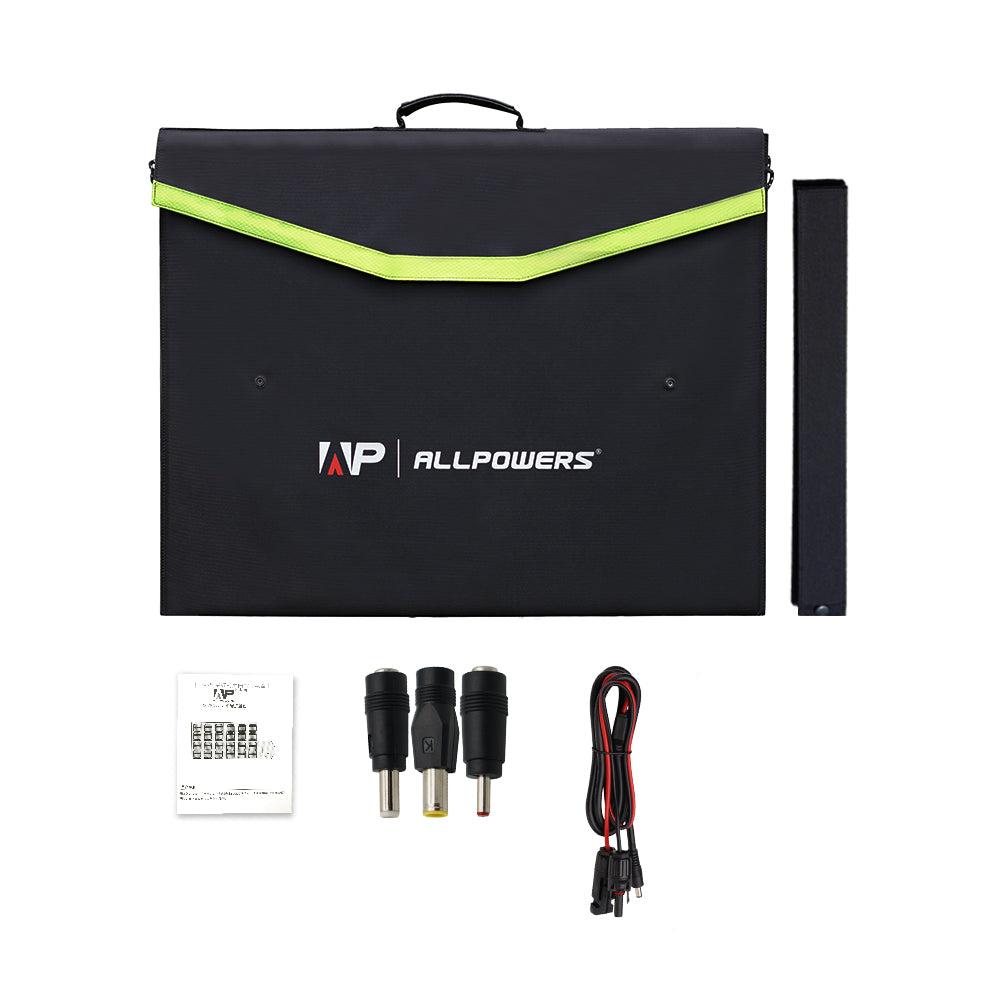 ALLPOWERS SP027 Polycrystalline Solar Panel 100W
---
Local delivery, 3-5 days delivery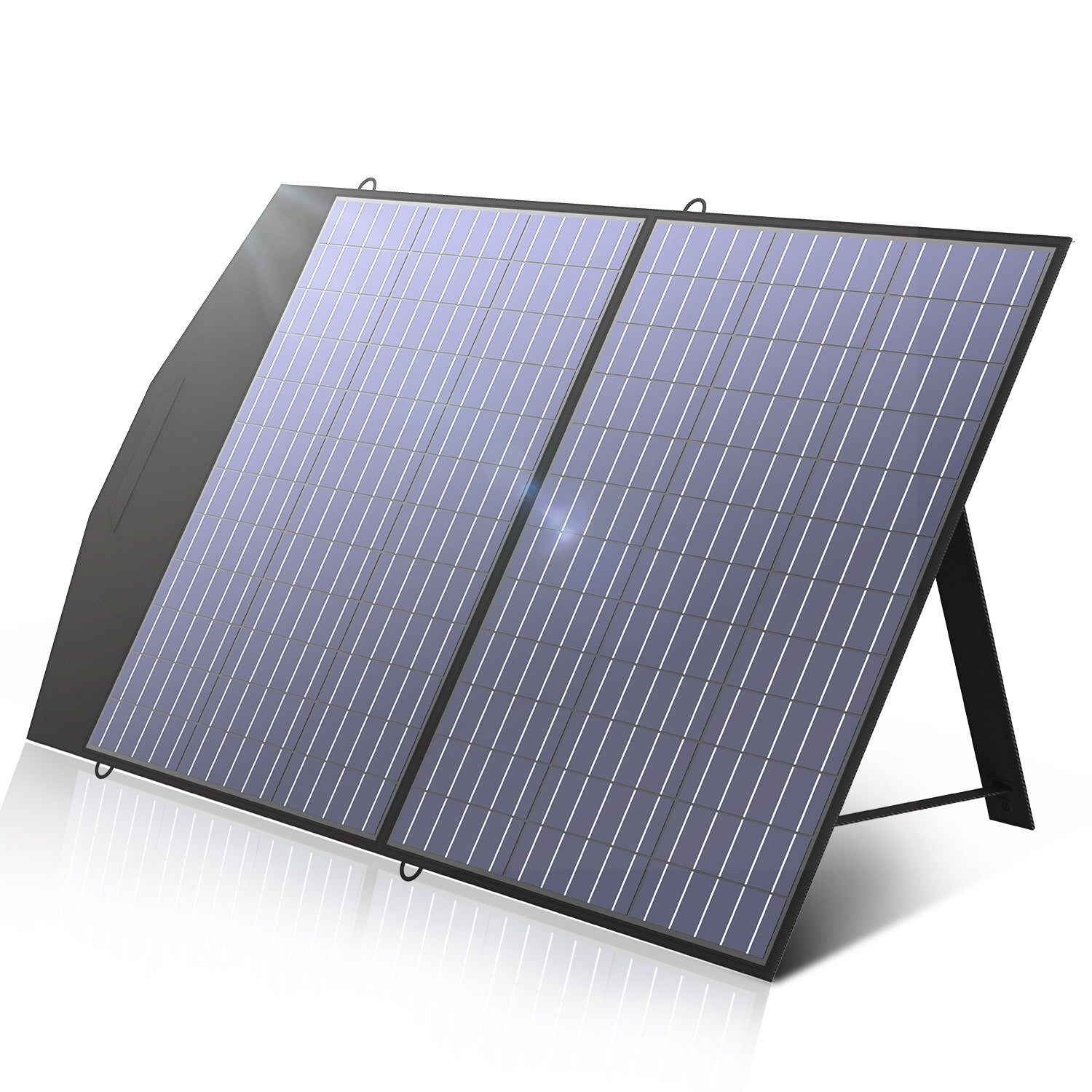 Feature Specification
High Conversion Efficiency;
Foldable & Portable;
Durable & Splash-Proof;
Compatible With Most Solar Generators with MC4 Connectors;
Download Manual
Open Circuit Voltage (Voc)
Short Circuit Current (IOC)
Maximum Power Voltage (Vmp)
Maximum Power Current (Imp)
Unfolded Size
1220×650×10mm/48×25.6×0.4inch
Folded Size
510×650×30mm/20×25.6×1.2inch
High Efficiency
ALLPOWERS 100W portable solar panel kit is made from the US, up to 22% efficiency, 1/3 lighter than the same power of solar silicon. The total power increased by 1/3 in comparison with the same portable solar panel kit size.
Made for Solar Generator
ALLPOWERS 100W foldable solar panel is compatible with most solar generator/portable power station on the market. The portable solar panel kit Includes different sizes of connectors for portable generator( MC-4 to Anderson / MC-4 to DC )
Wide Compatibility
Equipped with the MC4 connector, ALLPOWERS 100W solar panel is highly compatible with most solar generators on the market.The foldable solar panel 100W constructed with durable and waterproof nylon and adjustable bracket to receive the most effective sunlight. Short circuit and surge protection technology keep you and your devices safe.
How To Get More Powerful?
By connecting multiple solar panels in parallel or in series, you can get higher power and voltage.
Foldable & Portable
 Folded size only 20x25.6x1.2inch, 7.9lb, portable solar panel 100W is great for traveling off the beaten path without access to electricity and won't take up much room in your bag. ALLPOWERS foldable solar charger features 1*MC-4 output(25A max), providing endless power for laptop, power station in camping, outdoor, garden, motorhome, and caravan under the sun.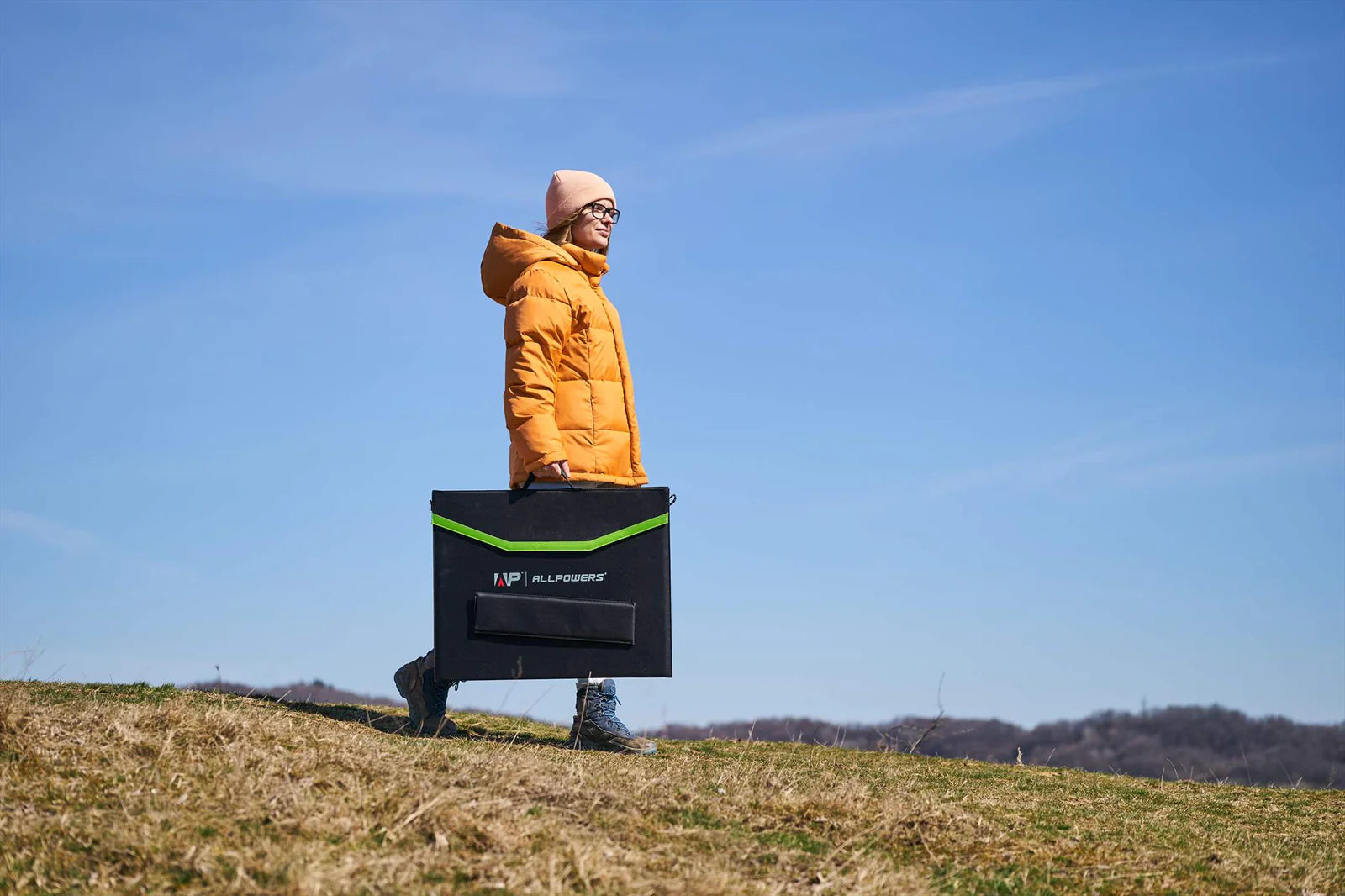 This product is rated 5.0 of 5.0 stars.
It has received 8 reviews.
All powers solar panel delivers
We purchased this panel as an inexpensive way to boost our ability to add watts to our power banks.Researching options we decided to go with All powers a brand that was new to us.The panel arrived on time and after reviewing the manual we hooked it up and placed it in the Florida sun.Our current 100 watt panel gives us 60 to 80 watts on average with the highest we have seen at 91 watts.This panel cost over 50%more than the All powers panel so we expected around 70 watts would be a good return.Within 10 minutes the panel was pulling as high as 104-108 watts and leveled off in the 85-95 range.When we have good sun the panel pulls in 80-100 watts consistently.The best part is when we have little sun or clouds the panel sill pulls in25-45 watts where our other panel gets almost nothing.We have been surprised at the quality,performance,and value in our panel.We discovered All powers looking for to save money and found value and quality.Be assured we will be trying more of your products in the future as we add to our solar power array.
Thank you for offering affordable quality solutions so everyone can have access to solar power backup.You get 5 Stars in our house.
More than Impressed!
I purchased the Allpower r600 and wanted a solar panel to back it up in case of a power outage for an extended period! I chose the SP027. I tested it out in bright sunlight and got 96 watts of continuous output of the solar panel! I only wish I had opted for the 200 watt panel! AMAZING PRODUCT!
Great panel for the price
Construction is nice and sturdy, I enjoy the velcro attached legs that way you don't have to place it flat on the ground. Most importantly of course is the performance and it has been consistent with low-mid 90W-95W which is great as most panels usually do about 90% there advertised rate.
Very nice solar panel. Comes with all the cable connectors you will need. I highly recommend this product.
We purchased this to pair with our Duracell 500W Powerbank. After Hurricane Ian - realized we needed an alternative power source besides electricity and honestly we now use it to chage our various electronics just to save some electricity cost. The panel is extremely portable and comes with kickstands. I am extremely pleased with this purchase!