ALLPOWERS Donated Mutual Aid Disaster Relief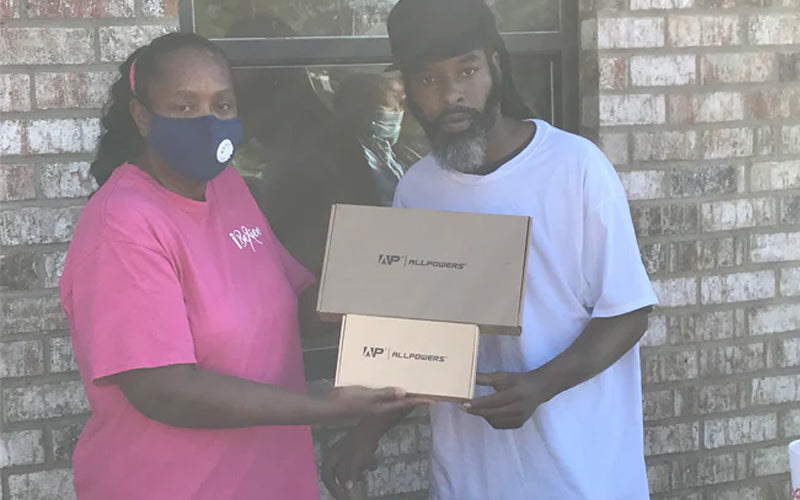 ALLPOWERS Donated Mutual Aid Disaster Relief To Help People Who Had A Hard Time In Hurricane Laura 
During 20th, August,2020 to 29th, August,2020, Hurricane Laura swept ashore as one of the most powerful storms to hit the U.S. It continued to pose the threat of heavy rains and flash flooding.
People who live in Louisiana Coast, Northward, have suffered power cut off issue.
After hearing that news, ALLPOWERS contacted Mutual Aid Disaster Relief and donated some portable solar panel charger and solar power bank to help the local people get power from solar energy.
As a portable power backup manufacturer in China, ALLPOWERS aims to develop portable power station and solar panel charger to help people get outdoor power.
How Did ALLPOWERS Solar Panel Charger Help People During The Hurricane?
ALLPOWERS solar panel charger is made of fold-able solar panels and equipped with dual USB port. It is slim and powerful, 1/3 lighter than the same power of solar silicon.The total power increased by 1/3 in compare with the same solar panel size.
With ALLPOWERS solar panel charger, people who had a hard time from the hurricane can charge their phone and then they can be able to keep in touch with the rescue team.
In addition, people who did not get any loss in the hurricane, they also had a nightmare the power off from the grid. They can charge their phone and with battery, they can stay at home and play games or reading on their phone since many people are "phone addict".
The solar panel charger convert solar energy into electricity through the solar cells, it is generated 100% natural energy and no battery needed.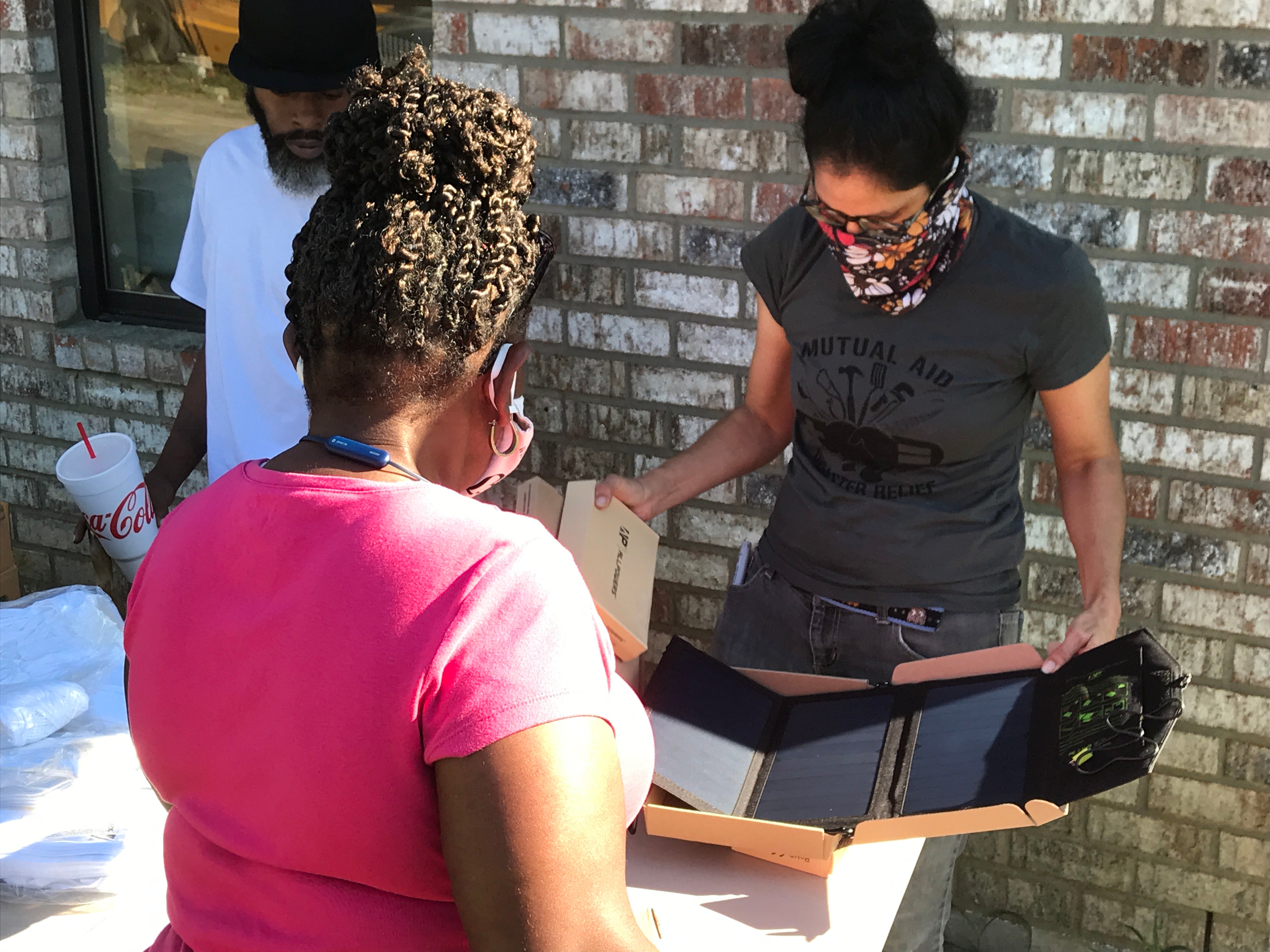 How Did ALLPOWERS Solar Power Bank Help People During The Hurricane?
ALLPOWERS portable solar power bank is made of solar panels built in high capacity lithium polymer battery and it can be recharged via power outlet or sunlight. The solar charge feature is recommended to be used in outdoor activities, such as emergency, camping, hiking, etc..
During the hurricane, solar power bank can be used as mini solar power station for their portable device. People can charge their power bank from the power outlet or a large portable power station or even through sunlight first then they charge from the solar power bank.
ALLPOWERS solar power bank Supports up to 4 electronic devices to charge simultaneously. Three fast output ports and one wireless output charging for your phone, tablet or other electronic devices. Two input ports (USB-C Port & Micro USB Port) provide you different charge for the power bank. It also equipped with multi-functional led lights, with strong/weak lights-Flash-SOS mode, it leads the users from darkness and emergencies as lifesaver.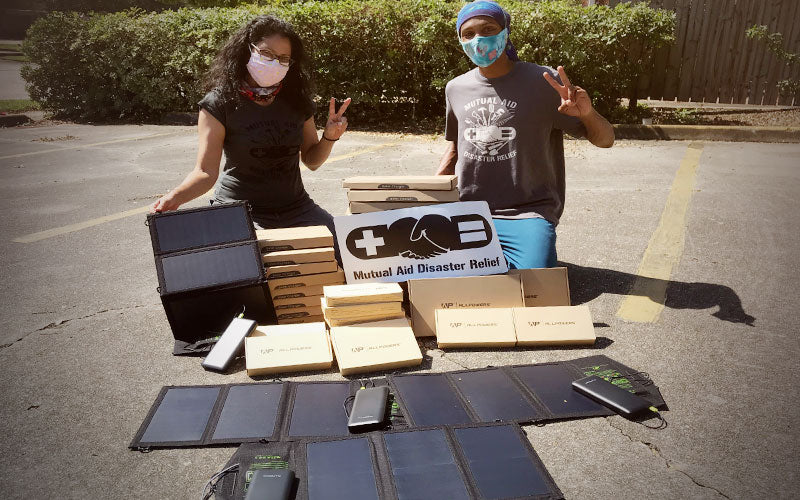 About Mutual Aid Disaster Relief
Mutual Aid Disaster Relief is a grassroots disaster relief network based on the principles of solidarity, mutual aid, and autonomous direct action. Their national network is made up of many Eco-activists, social justice activists, global justice activists, street medics, herbalists, permaculturalists, black liberation advocates, community organizers, and others who are actively organizing around supporting disaster survivors in a spirit of mutual aid and solidarity.
It is a decentralized network, defined by the character and creativity of a multitude of communities and drawn together by our collective commitment to stand in solidarity with those impacted by disasters and turn the tide in favor of climate justice.
About ALLPOWERS
ALLPOWERS is a solar energy technology company integrating R&D and production on solar panel charger and portable power station. The company currently has more than 200 full-time employees. The company headquarters and R&D department are located in Guangzhou, with an office area of over 2,000 square meters. It has nearly 20 R&D and testing large instruments, and about 50 R&D personnel.
ALLPOWERS are developing high capacity portable power station to meet people's outdoor power needs.
The Final Thoughts
ALLPOWERS commit to develop more advanced and practical portable power station to help people solve the off grid power issues.
And we will always dedicated to support people who are experiencing power off from disaster. And we are happy to contribute our effort to build a harmonious society via our solar panel chargers and portable power station.
Now I have showed you how our solar panel charger and solar power bank have helped people in the hurricane disaster and how Mutual Aid Disaster Relief take action to help people in need.
What aspect do you think we can help with our solar panel charger ?
Do you think portable solar charger is helpful when your power was off?
Tell us your thoughts in the comment below, and I reply every comment.
Resource
Photos from Mutual Aid Disaster Relief
---