ALLPOWERS Power Station 372Wh Review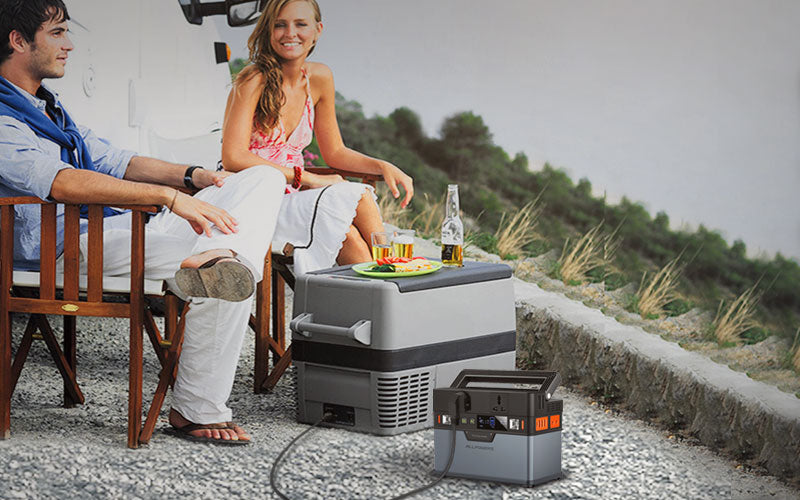 If you are looking for a portable power station for camping, then ALLPOWERS power station is a key to charge your electronic devices and meet your outdoor power demand.
With a built-in light weighted lithium battery and recharge function, this portable power station is specially designed for the average outdoor lovers looking to enjoy the off grid life in the wild.
Portable power station has long been a choice for many outdoor lovers such as hikers, campers, backpackers around the world, ALLPOWERS power station is one of them. This power station continues ALLPOWERS' advantage of portable and light weighted portable solar generator such as 288Wh, 154Wh, Monster X.
With Battery Management System (BMS) undertakes voltage control, temperature control and more advanced safety operations, ensuring complete protection for you and your devices and it hazes Zero emissions, therefore it does no harm to personal health, nor to the nature.
A high-density lithium-ion battery allows for a more compact build than that of lead-acid power packs. ALLPOWERS 372Wh power station works quietly without raising your voice or feeling disrupted, widely used for indoor or outdoor such as family, office, travel, camping, fishing, hunting, farm or the job sites.
What is ALLPOWERS 372Wh Portable Power Station?
There are two ways to improve your off grid life for outdoor lovers with a power station: light weighted and multifunctional. ALLPOWERS 372Wh power station uses Bluetooth technology that connect your device in a wink which is wireless and more light weighted. Fortunately, you will enjoy ultimate wireless stability through the Aipower APP support.
ALLPOWERS powerhouse boasts six output modes: a 12V cigarette light socket, two 12V/15A DC output, 3 fast-charging USB ports, one Type-C output, wireless charging and two AC sockets.It can be recharged by solar Panel/ wall outlet/car. This enable the power station with more functions which can be used for camping or emergency backup, capable of powering lamp, phones, laptop, TV and even mini fridges( Not recommend to CPAP used).
There are many power station to choose from ALLPOWERS power station series. The ALLPOWERS 372Wh solar generator is a moderate priced "outdoor power guard" which offers you off grid power but also makes use of the sunshine and with no pollution.
Review The Product
ALLPOWERS 372Wh Power Station Detailed Review
Here is the review of the different aspects of the ALLPOWERS 372Wh power station:
Design
The ALLPOWERS 372Wh power station reserved the traditional portable handle like a basket and with no fancy or exclusive design elements. Easy to carry and portable is the key and fancy or not is another.
To be fair, the design isn't the selling point here. ALLPOWERS 372Wh power station is a rectangle case with a small lithium battery.
Weight
ALLPOWERS 372Wh power station is equipped with 100500mAh lithium battery. It is 3.986KG with a size of 20.6x16.5x11cm which is small and easy to carry. It is probably the most light weighted portable power station in the market.
Technology
ALLPOWERS 372Wh portable power station is controlled by MPPT charger and remote controlled by Aipower APP(Use Bluetooth technology).   
Better than the improved sine wave, ALLPOWERS 372Wh power station is with intelligent CPU control mode, key switch output, LED display, short circuit and surge protection. It can provide stable power for remote devices such as notebook computers and projectors.
Recharge Modes
ALLPOWERS 372Wh portable power station can be charged in the following 3 ways:
Recharge from the ALLPOWERS solarpanel (Using the MC4 AndersonConnector Cable)
Plug it into the wall charge
Recharge from your car 12V adapter
It offers multiple charge options to meet the demand of different applications.
Price
The ALLPOWERS 372Wh power station is well priced.You can find cheaper portable power station, including ALLPOWERS series. But they'll have few functions and a little heavy-weighted.
Should I Buy The ALLPOWERS 372Wh Power Station?
If you trust ALLPOWERS, don't care too much about the fancy outlook and interested in solid quality power station with multiple functions, this is the right portable power station for you. ALLPOWERS portable solar generator tends to be with long lasting battery and light weighted portable power station to meet different outdoor occasion power demand. 
If you want to improve your outdoor life quality with the use of portable power station, there is a lot of application value for both 372Wh portable power station and other ALLPOWERS power generator.
Their strong and long lasting working features hides in the traditional design which is equipped with six different output modes to power different electric appliance. In addition, the wireless remote control on the portable solar generator through an APP can help you live smartly. The solar charging mode is an amazing way to make use of natural energy.
---