ALLPOWERS R600 Powers Station-A Cheap Option with Super-fast Charging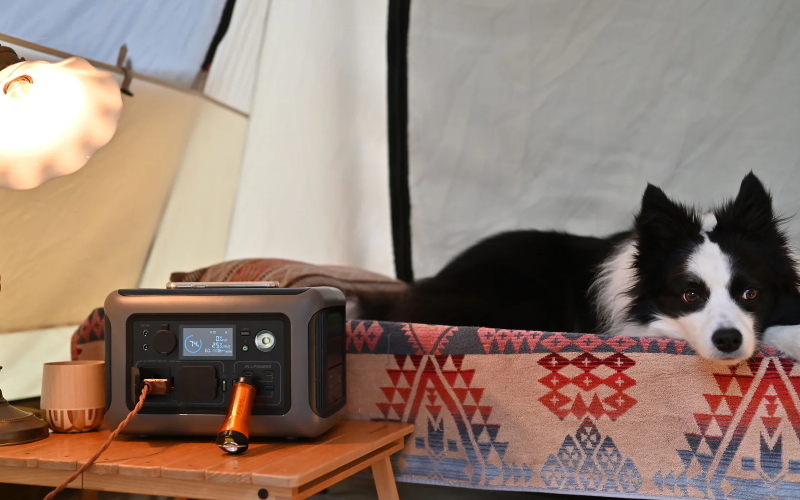 If you are looking for a portable and efficient solution to have power on the go, you may be interested in learning about the ALLPOWERS R600. It is a charging station that allows you to power up to 10 electrical devices at the same time, with an output power of 600 W and an internal 299 Wh battery.

In addition, you can recharge it in just one hour with a traditional plug or with a solar panel. In this review, we tell you everything you need to know about the ALLPOWERS R600, its features, advantages, and how you can get it at a very attractive price.
Unlike other charging stations we've introduced to you, the ALLPOWERS R600 costs less than $300, is super compact, and can cover all your power needs. It is capable of powering from a smartphone to a television. We leave you with its technical sheet in case you want to see its specifications in detail yourself.
Specification
| | |
| --- | --- |
| Capacity | 299Wh |
| Battery type | LiFePO4 (3500+ Cycles up to 80%) |
| AC Input | 400W max. |
| Solar Input | 300W max. |
| Cigarette lighter Input     | 200W max. |
| 2 * AC-Output | 600W / 230V, Spitze 1200W |
| 2 * USB-C Output | 100W max. |
| 2 * USB-A Output | 18W max. |
| 2 * DC-Output | 120W max. |
| 1 * Cigarette Output Port | 120W max. |
| 1 * Wireless Charging | 15W max. |
| LED lighting | Light mode / SOS mode |
| APP CONTROL & MONITORING | YES |
| UPS Power Supply | Within 10ms |
| Weight | 16.13 pounds |
| Size | 7.6 x 7.5 x 11.2inches |
What is the ALLPOWERS R600 charging station like?

 It is cuboid in shape, black and gray in color, has an LCD screen on the front to view output/input power and battery charge level, and has a retractable handle on top for easy portability.

Its design is compact and lightweight, its body is made of resistant and durable materials, it has ventilation grilles on the sides and on the back, its main ports are protected with a cover and it has physical buttons for simple and hassle-free operation. By the way, it has a large LED light that is quite useful when you take it camping and it gets dark.
In general, its build quality has seemed unbeatable. In terms of connections, it has two DC (or DC) output sockets, a 12 V car socket, two 100 W USB-C ports, two 18 W USB-A ports and two AC sockets. Each section includes its own on/off button so you only have to power the circuits you're using.

As if that were not enough, the center of its upper part is a wireless charging pad that will allow you to charge compatible devices with a power of 15 W without cables. Internally, it has a 299 Wh LiFePO4 battery that supports 3,500 charge cycles while maintaining a capacity of 80%.

By the way, it brings three ports to charge your battery: one for the 400 W AC input, another for 300 W solar charging and a last one to charge it with the 200 W car cigarette lighter. You will not need to buy extra accessories, Well, the box includes the necessary cables to take advantage of these ports: an MC-4 to XT 60 solar charging cable and an AC input cable.
It is capable of powering up to 10 devices of all kinds at the same time
Taking advantage of all its power outlets, it is possible to charge or power up to 10 devices at the same time. Some of the devices that it can power, with the respective autonomy that it can guarantee,

The ALLPOWERS R600 has an app that allows you to control it remotely. The app is useful, but it could be improved. With the application you can see the status of the battery and the energy consumption, so it is a great help for monitoring the charge. 
It should be noted that its internal LiFePO4 battery has a much lower risk of fire and explosion than batteries with classic lithium-ion technology. Likewise, it ensures a longevity of up to 10 years and incorporates multiple protection systems against all types of electrical failures.

On the other hand, it is important to note that the AllPowers R600 can function as an uninterruptible power supply (UPS) for your most essential electronic devices. This means that in the event of a power outage, the station will continuously supply power to your appliances without interruption. The transfer time is only 10 ms, which prevents damage or loss of information.

Charges from 0 to 100% in just 1 hour
The AllPowers R600 has an additional advantage: it has a built-in charger, which means you don't need to carry an external charger when you travel. Only the power cord is needed, which is small and light. This is not very common in other models.

Another prominent feature of this charging station is its charging speed. You can fully charge it in less than an hour with 400W input power. However, it is recommended to avoid fast charging if you are not in a hurry, as it can reduce battery life in the long run. Either way, it has a BMS protection system, which monitors temperature and voltage to prevent battery damage.

If you charge it with a 300W solar panel, it charges from 0 to 100% in 1.5 hours. Nothing bad!
Is the AllPowers R600 charging station worth it?

The AllPowers R600 is a portable charging station that offers great capacity, power and versatility. Its LiFePO4 technology guarantees a long service life and high safety. Its robust and compact design makes it ideal to take anywhere and power all kinds of electronic devices.

Its main advantage is the wide variety of connections it offers, from AC plugs to USB-C and USB-A ports, including 12V and 24V outlets. 

In conclusion, the AllPowers R600 is an excellent option for those who are looking for a portable charging station with many connectivity options and a good price.
Article excerpted from: Argenis Torres
---