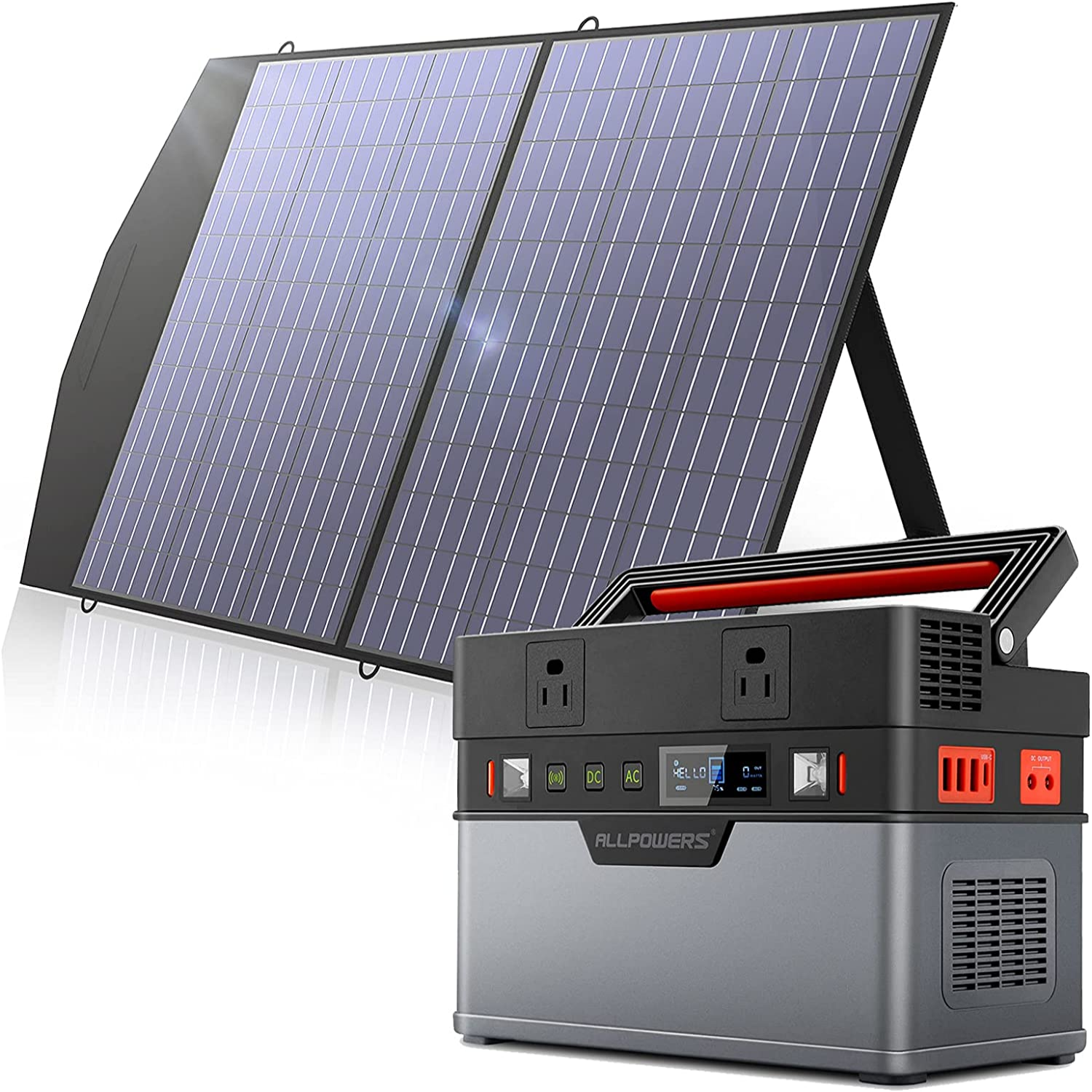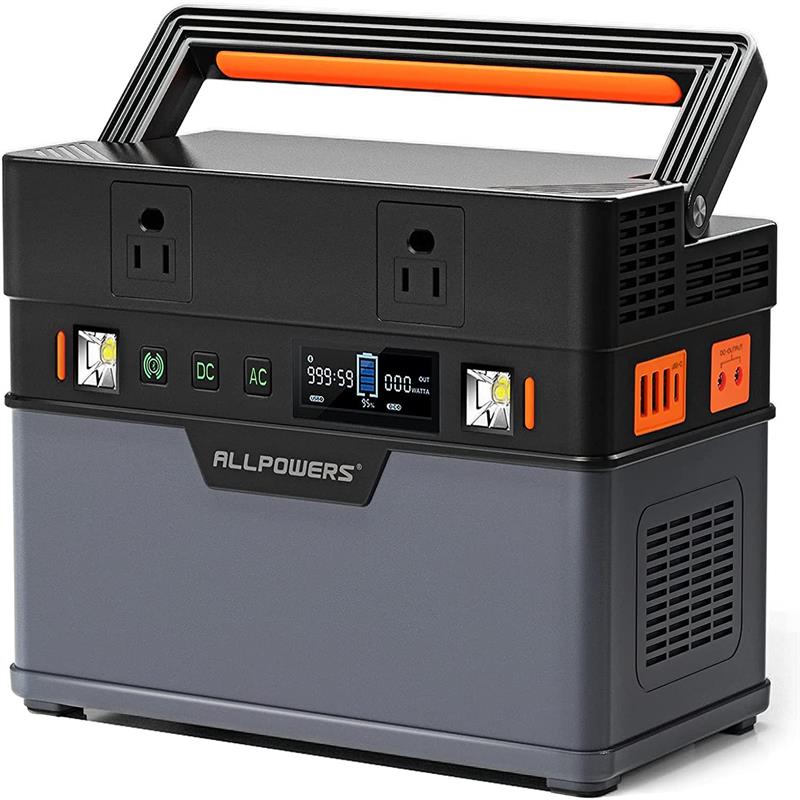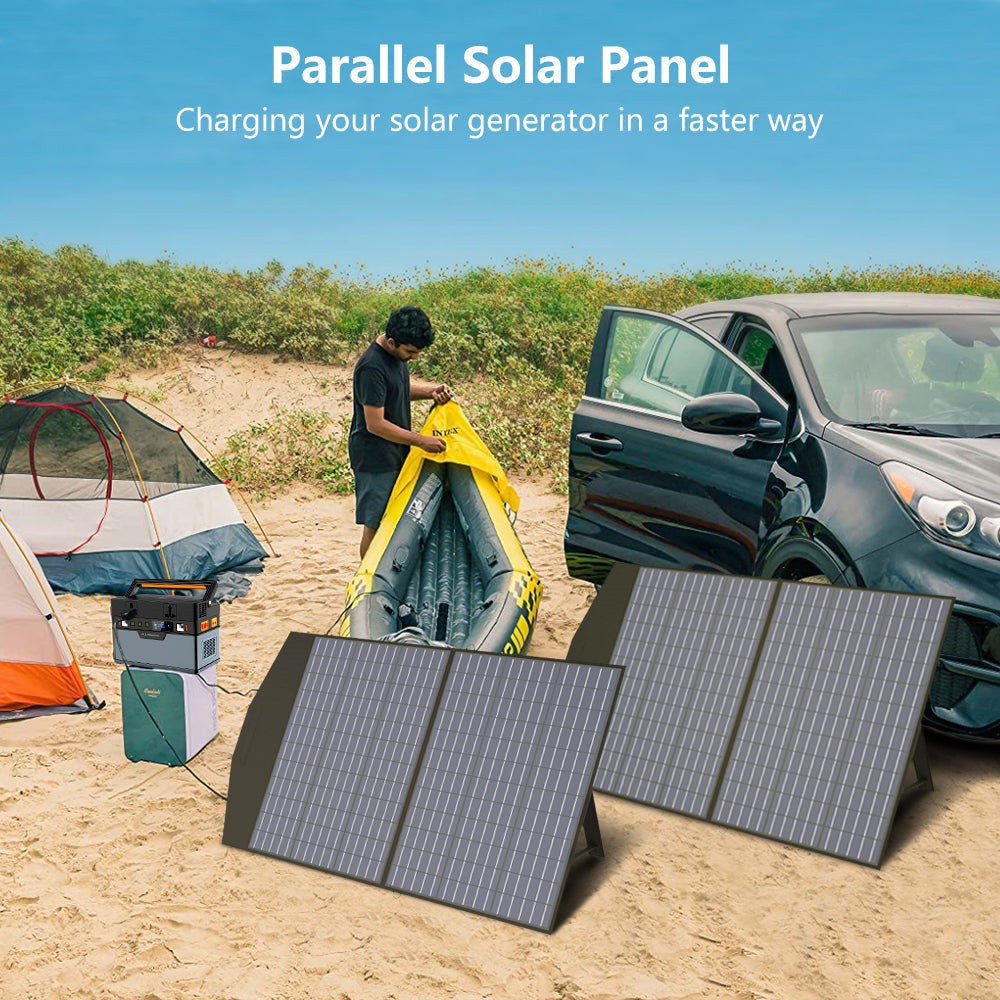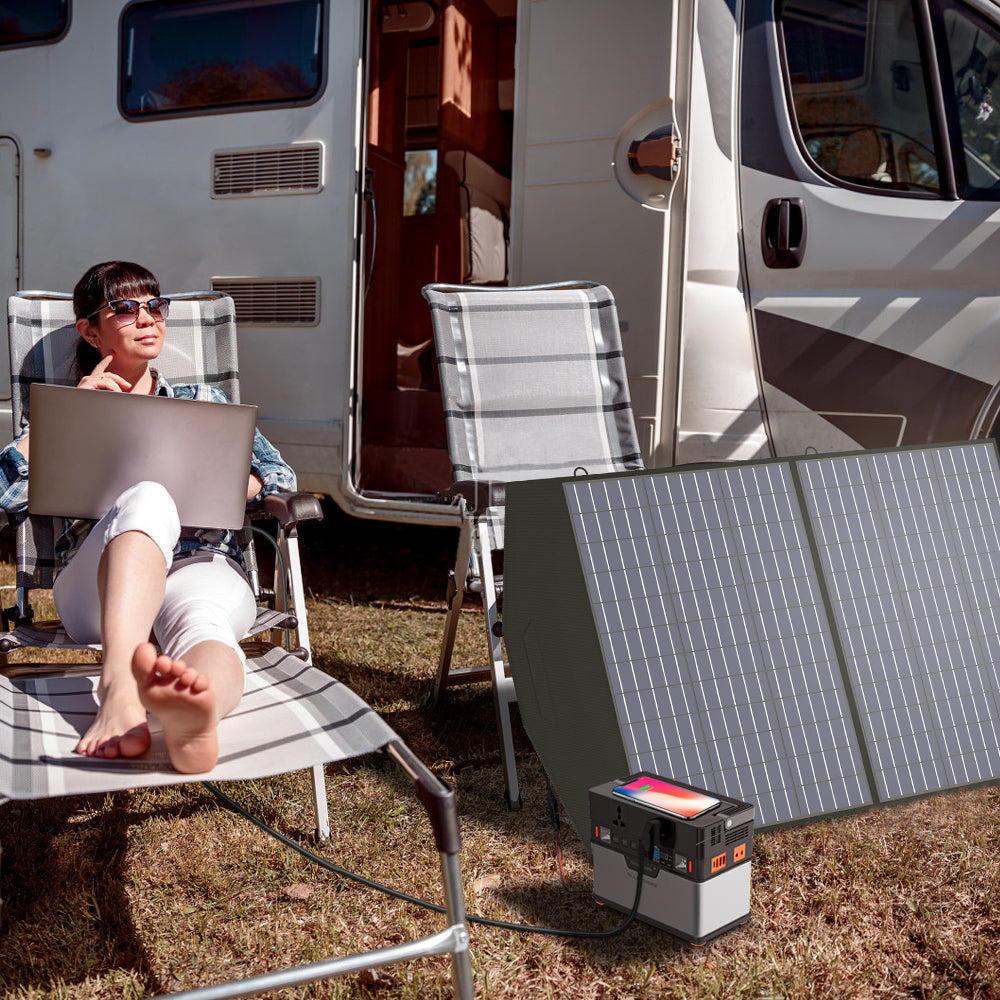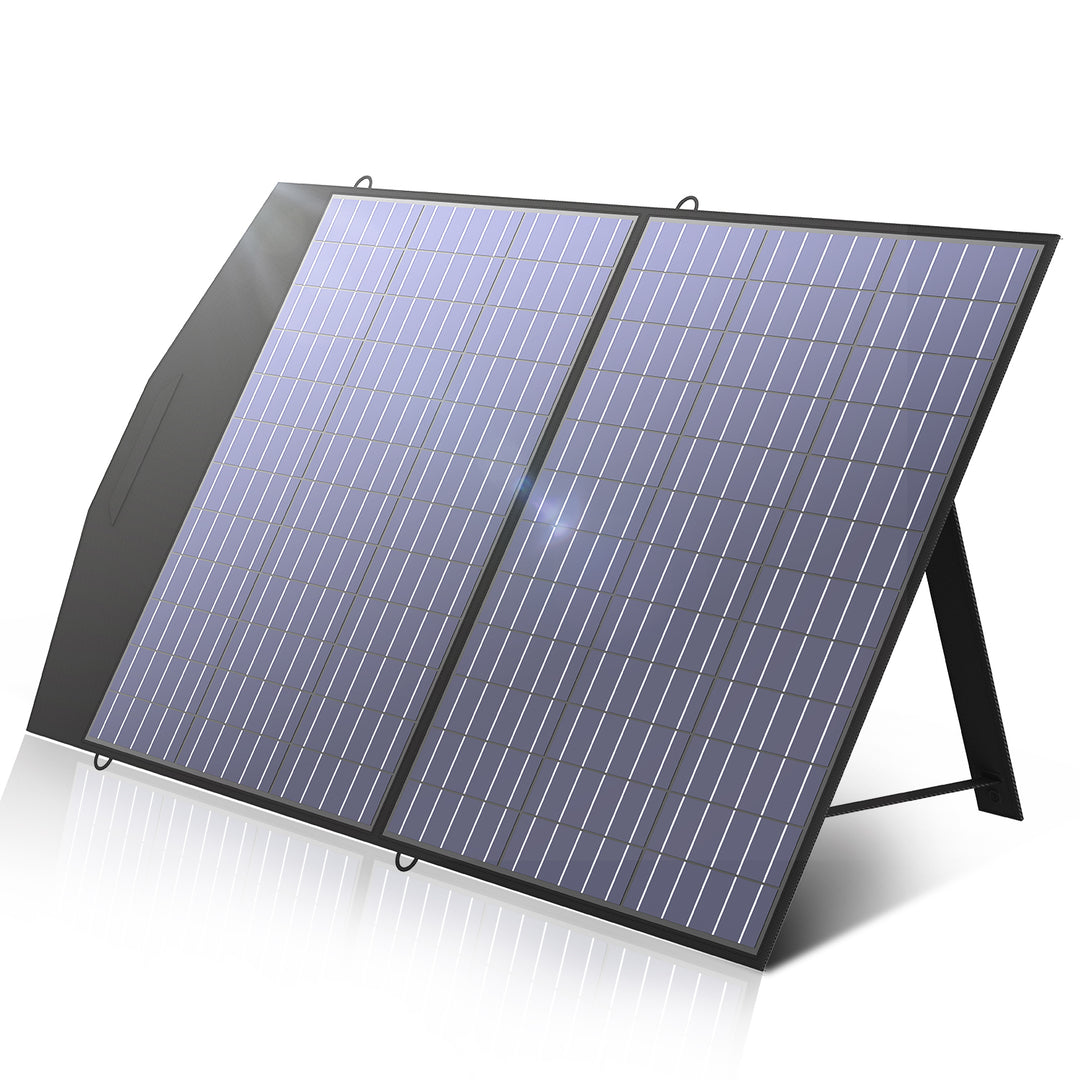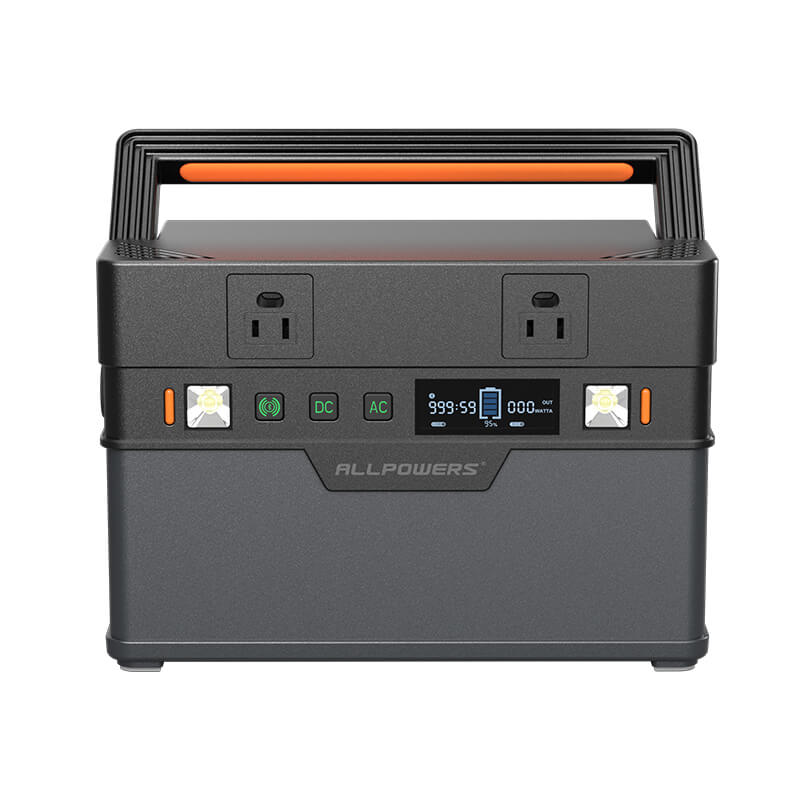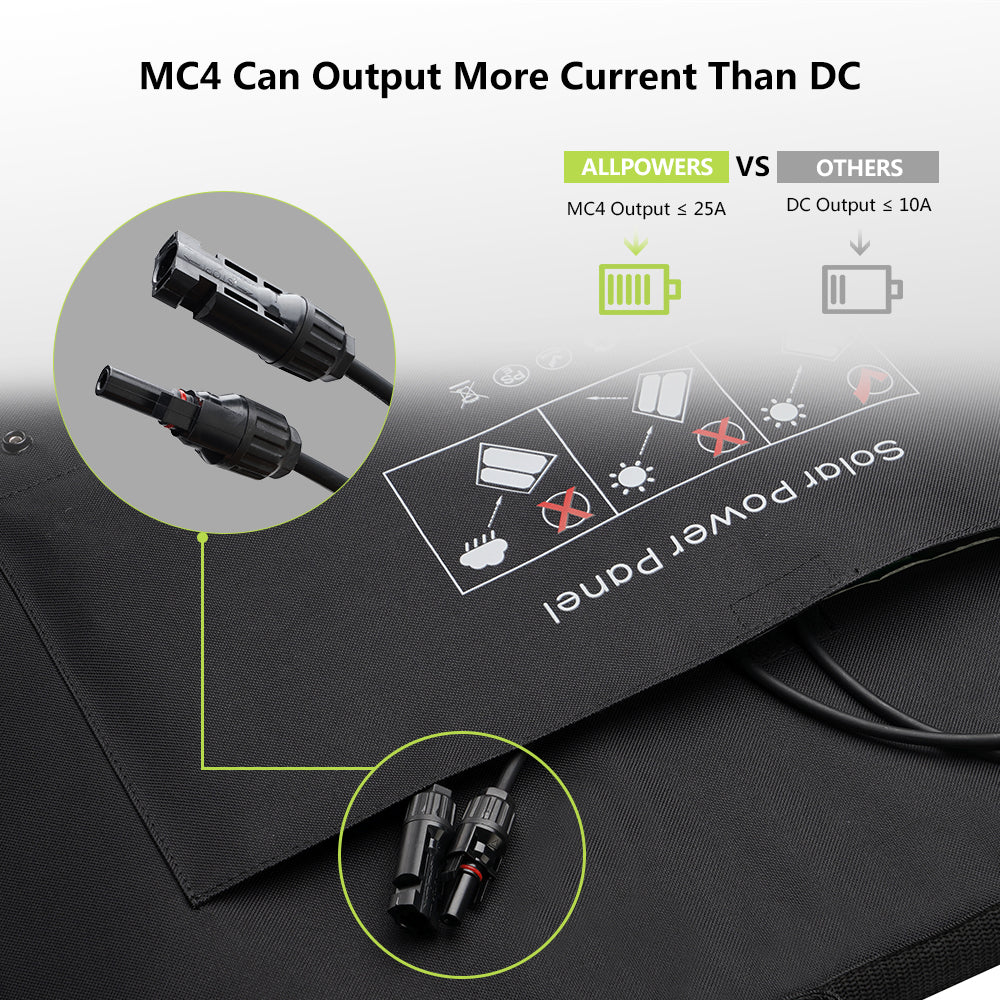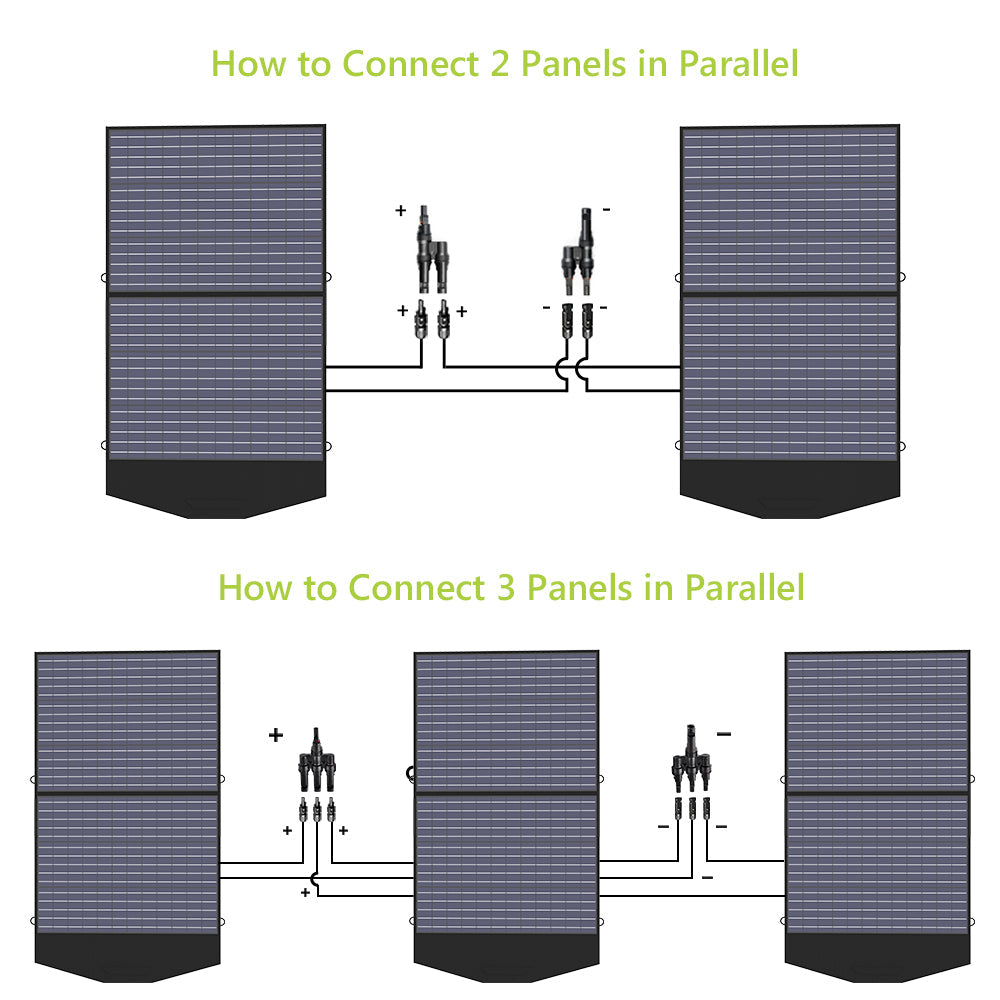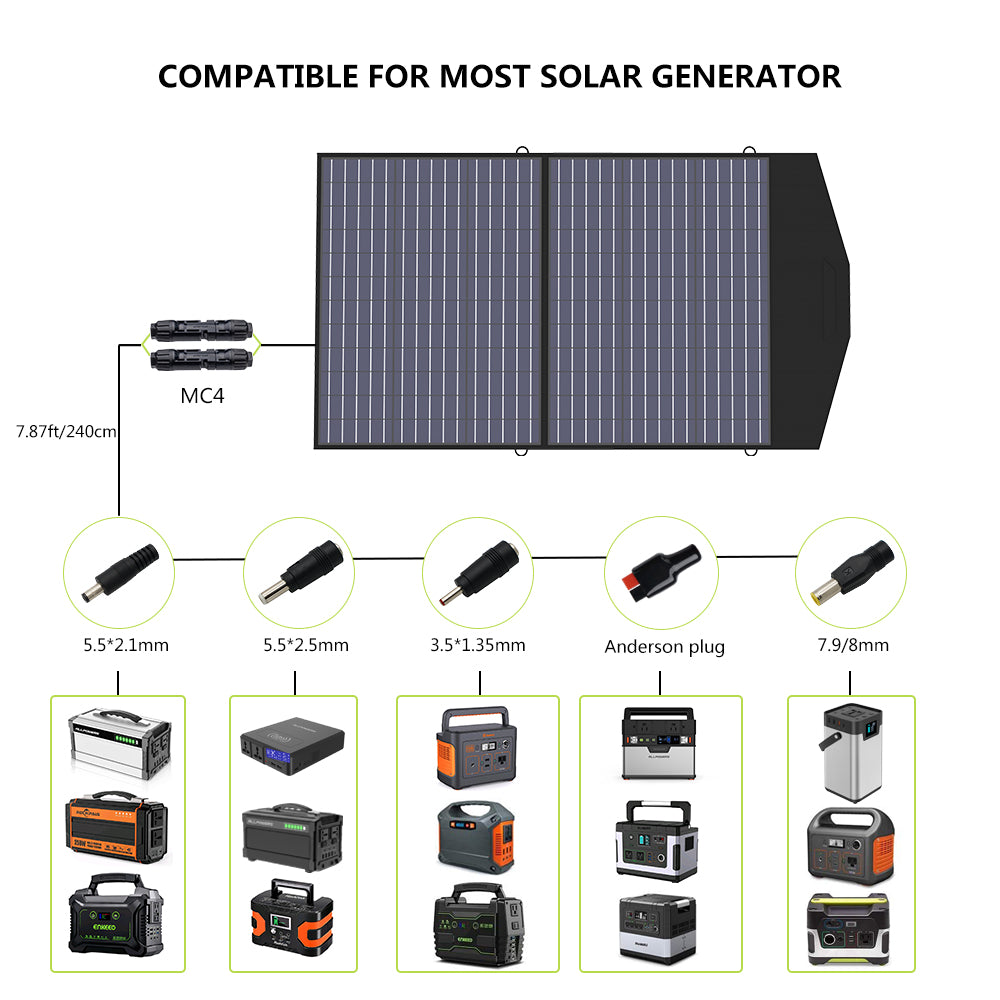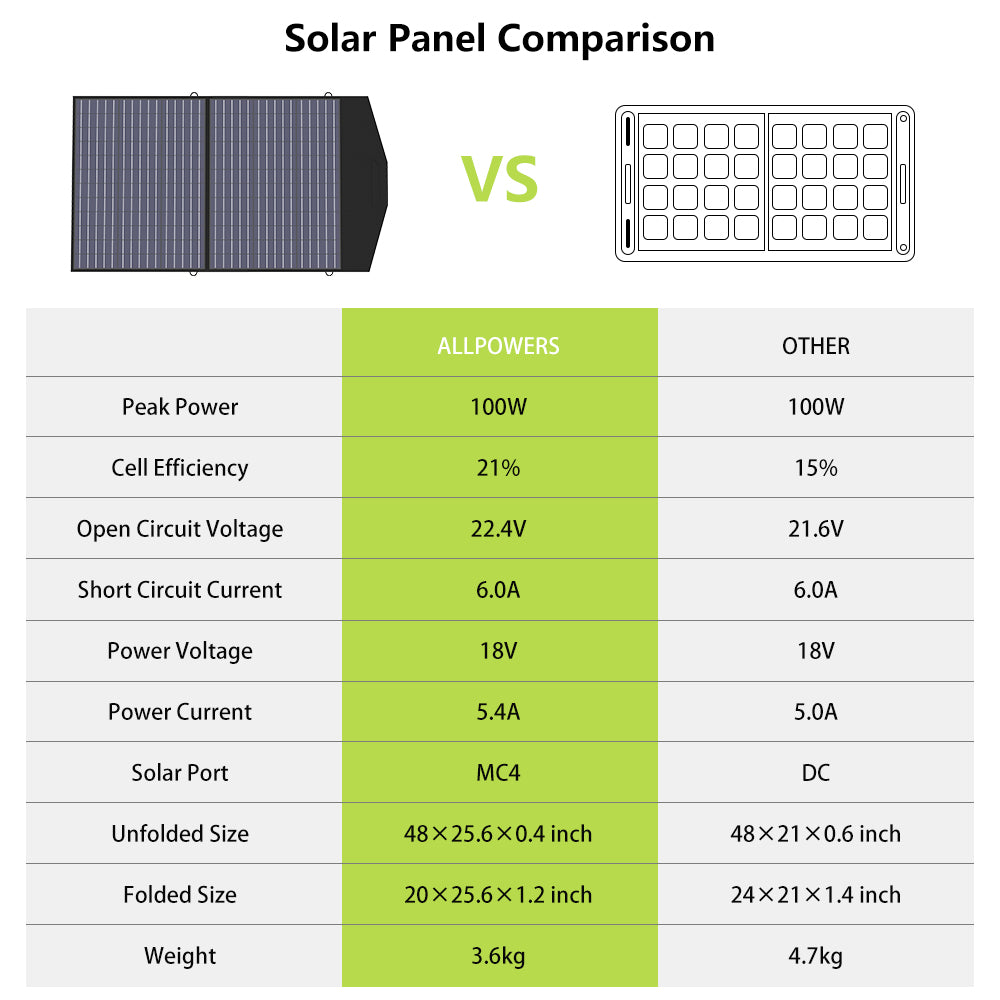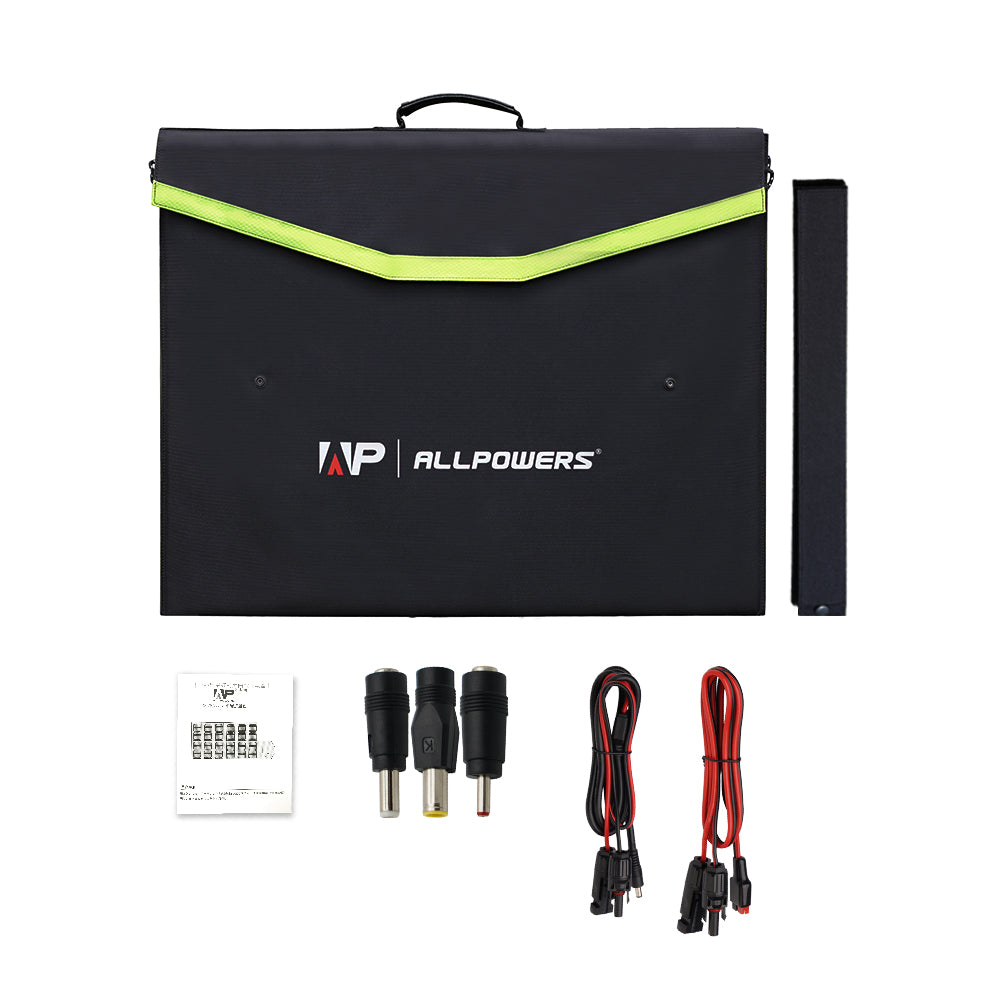 ALLPOWERS Solar Generator Kit 700W (S700 + SP027 100W Solar Panel)
---
Local delivery, 3-5 days delivery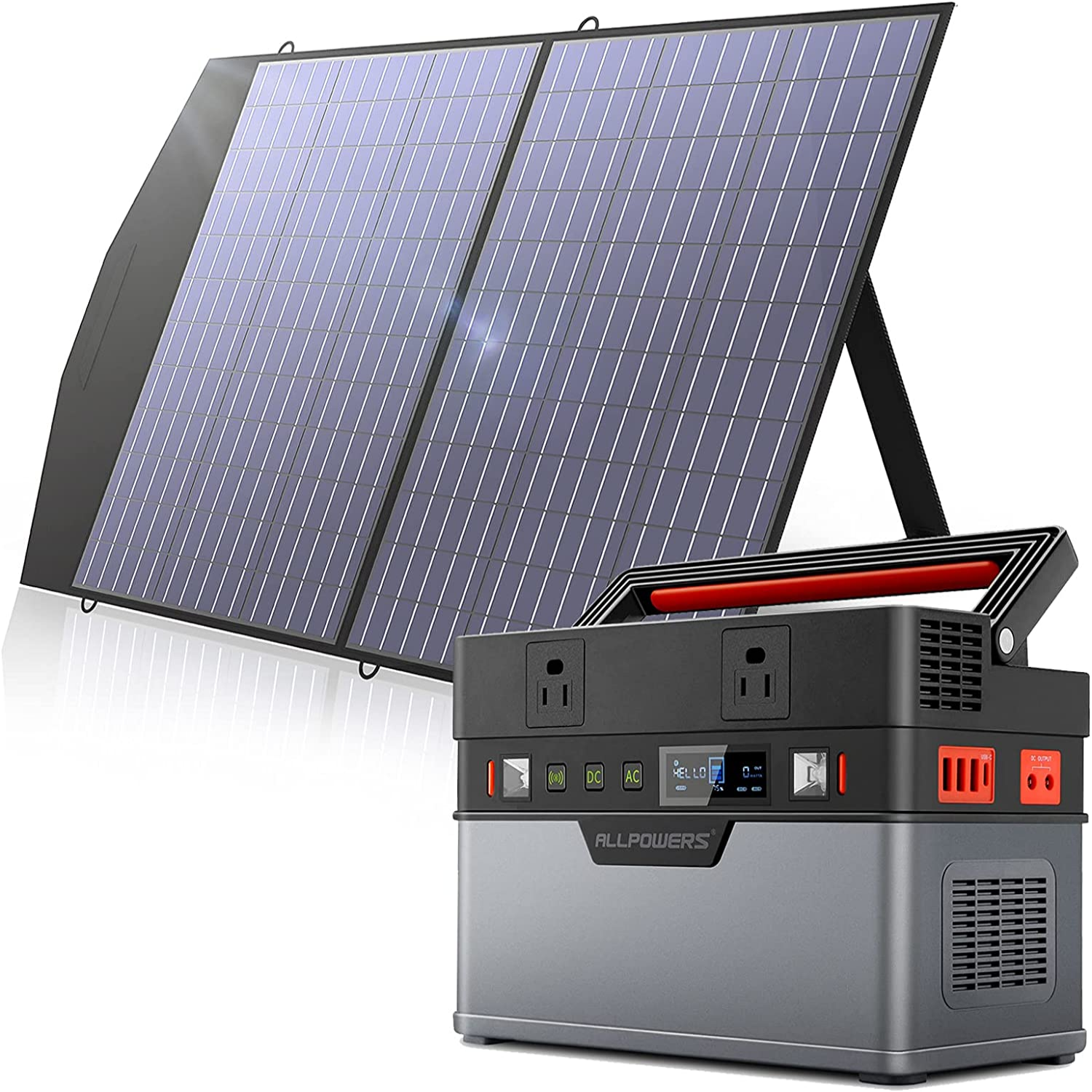 Feature Specification
700W AC Pure Sine Wave Inverter (1400W Surge);
606Wh,164000mAh,Capacity;
1.5 Hours from 0% to 80% with Fast Dual Charging (AC+USB-C Simultaneously);
6 Ways to Recharge(AC/USB-C/AC+USB-C/Solar/Car/Solar+USB-C);
9 Outputs for Charging Multiple Devices at once;
100W-140w MPPT. Solar Input;
Phone Remote Control with ALLPOWERS APP;
Eco-friendly/Gas free/Quiet/Cost-effective;
Download Manual
Small Size & 606Wh Large Capacity
ALLPOWERS S700 is a battery power station packing 606Wh into a light 11.6lbs and small size with a carrying handle design makes the mobile power station for camping really portable. With a 606Wh large capacity higher rated power of 700W, it is ready to power many appliances mini cooler, fan, projector, lamp light, and TV for long time. The built-in lamp can be used as emergency lighting.
Power Up To 9 Devices Simultaneously
S700 Portable power station features 2x Pure Sine Wave AC outputs (110V 700W, 1400W Peak), 3 x USB-A ports, 1x PD 100W USB-C outport, 1 x Regulated car port, 2 x DC ports. Connecting via Bluetooth without internet, ALLPOWERS APP making operation easy stable. Allows you remote control it via your phone whenever and wherever. Vintage backup battery for your outdoor adventures, camping, road-trip, RV and home use.
0-80% Charge Within 1.5 Hours
Fast charging solar generator that hits 80% in under 1.5 hrs (fully in 3 hours) by AC wall outlet and PD 60W USB-C simultaneously. Use it as a solar generator for clean solar charging and get stable 100W input with MPPT optimization. You can also fully recharge it by 12V/24V car outlet or a generator. Keep your portable generator always fully powered whenever you are at home, outdoor camping or on your road trip.
More Than 10 Years Battery Life
With Excellent Battery Management System (BMS), ALLPOWERS S700 extends battery service life for more than 10 years with protection of short-circuit / over-voltage / overload / overheating and ensures 1000+ life cycles.
 ALLPOWERS, Your Best Camping Friend
Suitable for various occasions
Can it charge and discharge at the same time?
What device can ALLPOWERS S700 power?

Please note that the AC output port can only charge/power devices that operate at less than 700-Watt. Once exceeding, the S700 will shut off automatically. Please refer to your device specification before purchase.
How do I know the working hours of my device?

First, you need to know the watt of your load device, such as it is 66W.
Then,
AC output:
working time = 606Wh * 0.85 / working power of the device.
606 Wh * 0.85 / 66w=8.5 hours (rough calculated)

DC output:
working time =606Wh * 0.90 / working power of the device.
606 Wh * 0.9 / 66w=9 hours(rough calculated)
Is it possible to replace the built-in battery?

No, the product could not support change the battery or expanded battery capacity
What kind of solar panels should I choose for S700?

The S700 solar input is 12.7V-24V, solar input watt is 100W
This product is rated 4.8 of 5.0 stars.
It has received 5 reviews.
Light Weight, Portable, Great Value
After researching different power stations, I'm SO glad I choose the ALLPOWERS Mini Portable Power Station 700W. I like to take off for a couple days a month, and go off the grid. I own a small SUV that I equipped with a Portable Thermoelectric Cooler and sleeping area. I always bring my camera, drone, and laptop. The ALLPOWERS 700 easily handles charging all my equipment, not to mention keeps my phone charged and runs a small fan that I use at night. The solar panel works great for charging, and using my car cigarette lighter while driving keeps it ready to go. I also have to mention about ALLPOWERS customer service. I had one small question about the unit and i reached out to ALLPOWERS directly. ALLPOWERS got right back to me answering my question. Thanks ALLPOWERS!
Very good to use, everything is excellent.
Cool
I'm just getting into solar and I've been very happy so far.
Good
It works as advertised. Solar panel slow to charge but that's just the UK sunshine.
Great solar setup
I'm new to solar tech, and bought this combo as we have a mini camper and want to be able to power things when we do not have any electric hookup.
Tested out the panel on a normal day in May - not too bright but not dull. I was pulling 92Kw/h from the 100w panel - which is fantastic!
I haven't discharged the battery yet - need to drain it down and charge it up to properly initialise the battery - but it is all good now.
Don't forget to charge the battery using the mains first - leave it for 12 or so hours before using it with solar or it doesn't show the solar panel as working. Once done, it works perfectly.
Powered a mini-fridge off of it, with it being topped up with solar! The mini-fridge pulls 40-50w/h - so about 7-8hours off the battery.